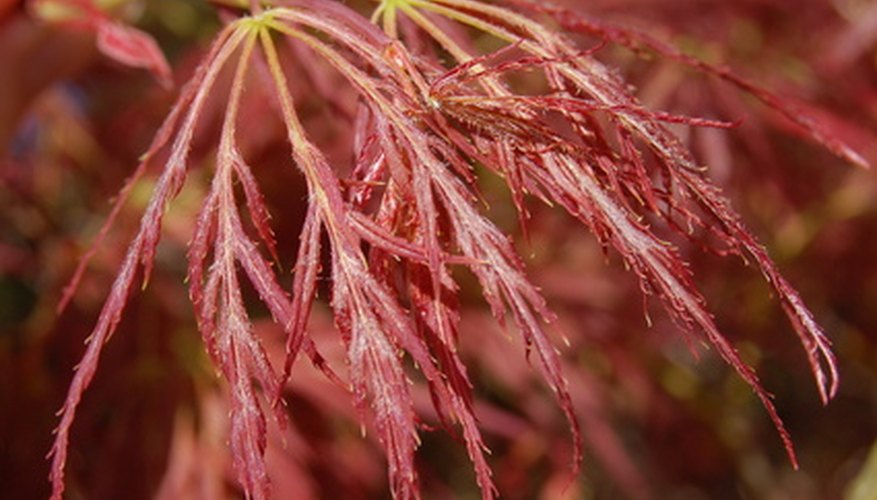 When considering a weeping Japanese maple for your landscape, you need to look at your growing conditions, landscape, and ideal planting location to ensure the maple will thrive. There are a number of different weeping Japanese maples. Although there may be slight differences in planting instructions, they are generally very similar.
Geography
Weeping Japanese maples are not native to North America. They are suitable for U.S. Department of Agriculture (USDA) hardiness zones 5b through 8. They grow well in most parts of the United States. Planting them in the extreme north, between Nebraska and the Canadian border and as far west as eastern Idaho, is not recommended. However, they grow well east of southern Illinois and as far north as Pennsylvania. They don't do well in hot areas like the southern tip of Florida and Texas or along the California coast.
Cultivation Methods
Weeping Japanese maples can be grown in two ways: plant the tree directly in the ground, as you would any other tree or bush, or grow the tree in a container. Japanese maples are a popular tree for bonsai, but are a rather advanced tree due to their need for cold periods in the winter. In most cases, you can simply leave your Japanese maples in their containers for the winter. However, if you live in the colder zones suitable for maple growth and are growing the tree as a bonsai, consider placing the pot in contact with the ground and wrapping it in blankets to help keep the roots slightly warmer than the air temperature.
Size
Japanese weeping maples should be planted with enough space to support their final size. How much space they will need will depend on the variety. Some dwarf trees may only grow to 6 feet wide and tall. However, many full-sized Japanese weeping maples can reach between 10 and 20 feet tall. Allow enough space around this slow-growing tree. If growing the tree in a pot, you can limit the size of the tree by removing it from its pot every two to three years and pruning 30 to 50 percent of its root ball. If growing bonsai, remove the tree every one to two years and prune the root ball to further limit growth.
Planting Location
Although some cultivars of weeping Japanese maple can tolerate full sun, most Japanese maples prefer partial sun or partial shade. In fact, some cultivars may suffer from sunburn under direct, hot sun. A number of cultivars of weeping Japanese maple grow in full shade. If you live in a drier climate, select a space that is protected from direct, drying winds. They are tolerant of most soil types, as long as the soils drain well.
Considerations
When planting a Japanese weeping maple, consider its size and how it will fit in your landscape over time. Because some varieties can be smaller, avoid planting things like small rhododendrons, azaleas, or camellias in front of the tree. If you inadvertently plant a full-sized camellia in front of a dwarf weeping Japanese maple, for example, the camellia may outgrow the maple and block it from landscape view.