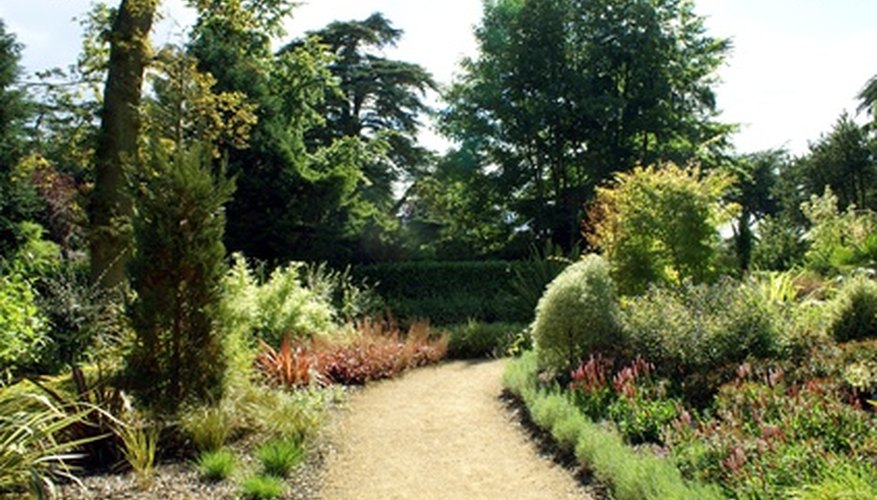 The border around your flower beds helps to define the garden area and separate it from the rest of the lawn. While a variety of attractive, premade borders are available from any garden supply store, you can give your garden a more distinct look and feel by incorporating an unusual border design. Explore yard sales and antique stores for one-of-a-kind pieces or colorful inspiration. Interesting materials, eye-catching colors and creative layouts can all contribute to a truly one-of-a-kind garden border.
Raise your flower beds several inches above the surrounding yard. This will allow for a taller and more dramatic border.
Lay out the border in an unusual design. Instead of straight lines and square or rectangular flower beds, opt for a more flowing, asymmetrical look. A border that extends around the yard in a softly waving pattern will conjure images of a flowing river. Meandering flowerbeds placed in central areas of the yard can divide the lawn into paths, ripe for exploration.
Lay large rocks or concrete blocks around the raised flower beds. These will provide a blank palette for creating a distinct and eye-catching border.
Surround your garden area with edging to form a barrier between the larger plants and the final border of the planting area. This edging can be composed of gravel, smooth river rocks, lava rocks or even low-growing flowers or plants. This will keep larger plants from overshadowing the border design.
Paint the rocks or blocks with environmentally-friendly outdoor paints. You can paint them all in a single color to match the color palette of the flowers or house, or use a variety of alternating hues. You can also paint interesting patterns, scenes or even whimsical quotes onto the border.