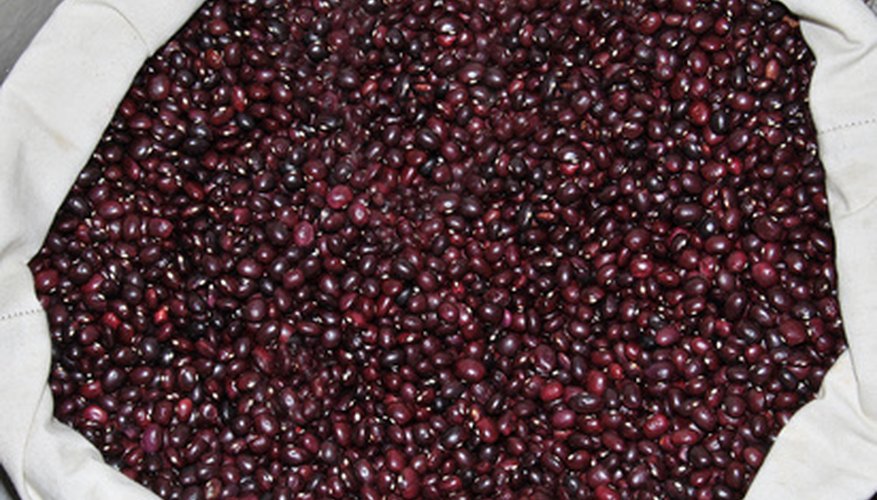 Red beans are regarded as dry beans. Others beans that are considered dry beans are pinto beans, navy beans and black beans. Beans all belong to the same species, Phaseolus vulgaris L. There are many distinctive varieties in the bean family, but the life cycles are similar.
Germination
Red beans, also known as kidney beans, can be started from seed indoors about six weeks before the final frost. The seeds can be planted outside when the soil temperature is at least 65 degrees F. The bean plants should be planted 12 inches apart and 1 inch deep. Sprouts will emerge in four to 10 days after planting.
New Growth
The seedlings will develop gradually, becoming thick-leaved shrubbery. It takes about two months for the plants to reach full development and flower. Flowering is an indicator that pods are about to start. Following pollination, the blossoms fall off and pods begin to grow.
Shrub
Red bean bushes produce one crop per season. Adult bushes reach about 30 inches tall and about 18 inches wide. Gestation of the pods is 75 to 90 days. Beans mature quickly and look plump when ripe. They should be harvested when biting does not leave a groove on the bean pod. The beans can be kept in storage for the year to come.
Heat
Temperature is a vital aspect in the growth of the plant. Temperatures that are too cold cause the plant to mature at a slow rate and produce a smaller crop. When temperatures are high, the plant needs to receive enough water and shade or the plant may scorch and the flowers may not develop.
Water
The plant should get 1 inch of water a week to keep even growth. More water may be needed during flowering and pod development. If the leaves of the plant are wilted and "sad" looking, increase water amounts. Water during the morning hours to avoid mildew and to allow the plant to absorb most of the water before daytime heat sets in.