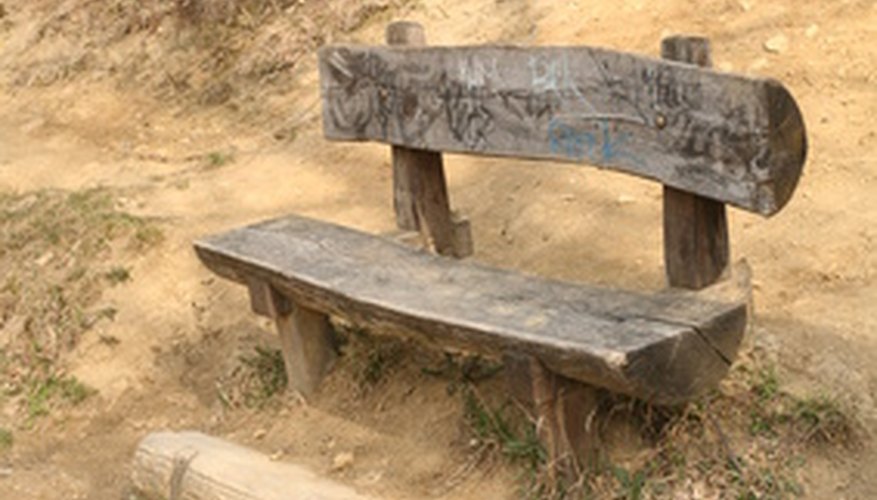 There are dozens, if not hundreds, of ways to make a bench out of wood, ranging from intricate framework and details to a more organic and simple style. If you have access to a chainsaw and a log, you can make a bench in a matter of minutes. This bench style can be made with a tree just cut with the bark still on, or one that has been drying and no longer has bark. This bench is naturally easy to work into your garden.
Pick the log you wish to use for your bench. It will work best if it's at least 12 inches in diameter, but 12 to 20 inches is preferable. If you have your own land, you might find a tree right on your property, or you can inquire with your local forester. The log should be in at least a 9-foot section.
Cut the two bases off of the section of log with the chainsaw. These should be 2 feet in length each. If you started out with a 9-foot log, then your bench seat section will be the remaining 5 feet.
Cut the bench seat section. To do this, cut the log with the chainsaw lengthwise into two halves. Each length should have a round side and a flat side and look like a semicircle when looking at the end grain. Essentially, you'll have two bench seats from this process and can use the second one as either a footrest or configure a back with more work.
Stand the two 2-foot-tall bench supports up on their ends and draw with a pencil the rough outline of a semicircle on their sides using the already flat tops as the flat side of the semicircle.
Cut where you've marked on the bench supports with the chainsaw so that you scoop out a space on each for the round side of the bench seat to fit into.
Place the bench seat into the rounded-out bench supports. If it doesn't quite fit, cut out as needed with the chainsaw so that it sits securely.