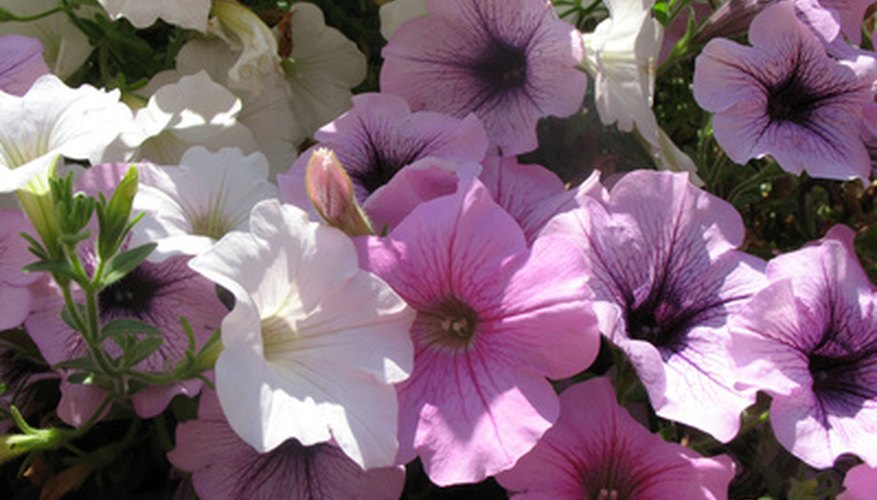 Growing plants in containers can bring beauty indoors in winter, liven up a patio or balcony, or let apartment-dwellers grow herbs and vegetables without a large garden. Plant containers can be made of just about anything that will hold dirt and water yet provide adequate drainage. Plastic, pottery, concrete and metal are common plant container materials. Metal pots for plants are attractive, durable, and inexpensive, especially when they are recycled from other uses.
Bathtubs and Washtubs
Container gardening need not be confined to shoe-box sized plastic pots. Gardeners with a balcony or patio can grow good-sized vegetables or ornamental plants by using large metal containers like old bathtubs for planters, suggests the Ohio State University Extension. Old claw-foot bath tubs have the advantage of a built-in drain hole, and provide a whimsical accent even in yard with ground-planting space, where they can be pressed into use to contain otherwise invasive plants like mint. Galvanized wash tubs and watering troughs of varying sizes are also available at farm supply stores; these may need to have drain holes drilled in them, or place a layer of pebbles at the bottom and set plants in them inside plastic planters, then fill the space around them with decorative mulch or pebbles.
Tin Cans
Food tins--especially large restaurant-supply sized cans or large coffee cans with colorful labels printed right on the can--make attractive pots for plants, and are available free. Use a hammer and nails to poke drain holes in the bottom of each can, suggests Susan Beal at Craftstylish. Then put a layer of pebbles in the bottom to promote better drainage, and fill with light potting soil and the plants of your choice. Just be sure to clean the container well first with hot soapy water and a mild bleach solution, recommends the University of Illinois Extension. Water frequently, and move small metal pots into the shade in the hottest weather, or plant with heat-loving plants like hot peppers. The University of Illinois Extension notes that soil temperature in metal containers fluctuates more than in non-metal planters.
Metal Planters
Metal has mostly given way to plastic in the manufacturing of new plant pots; however, antique metal pots can still be found and antique stores and garage sales. These will take on an attractive gray-green verdigris look, suggests the Ohio State University Extension. Paint old metal planters inside with asphalt paint, advises the University of Florida IFAS Extension; this helps prevent corrosion and rust. Metal basket planters are still offered new at garden centers; line these with coir mats or sphagnum moss before filling with light potting soil and planting. Remember to water these frequently as there is nothing to prevent moisture from evaporating directly out of the potting soil.