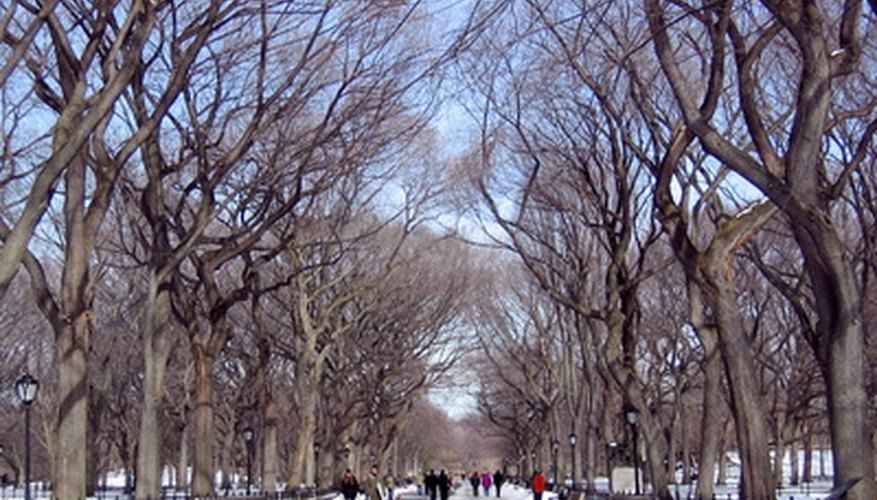 Steel, concrete and pavement aren't the only elements that help to create a functional and attractive urban center. Landscaping also plays a multifunctioning role in a metropolitan area's structure. Essential to any town and city are natural, growing elements that keep the populace connected to the earth, provide a more pleasant atmosphere and offer a home for nonhuman city dwellers too. Urban designers for centuries have recognized landscaping's importance, from foresters who ensure that trees shade city sidewalks to New York City Central Park designers Frederick Law Olmstead and Calvert Vaux's winning design.
Health
Cities are increasingly recognizing that urban landscape designs can play a vital role in the health of the citizens experiencing them. At a time when technology is causing people to become more stagnant than ever, cities are responding by offering them incentives to get up and move, particularly outside. Designs in more vehicle-dependent cities such as San Francisco and Washington, D.C., encourage bicycling and walking with easily accessible and well-maintained paths, and seek to enhance those experiences with attractive, diverse landscaping along the way.
Habitat
With animals being the true natives of any given place, it's natural and right to accommodate them as well as possible. Birds, toads, rodents, butterflies and the like will rest and nest in whatever bush, tree, grass patch and daisy that suits them. Urban landscaping, while attending to the needs of humans, also provides animals with what they need to survive, be it a spot to rest or nectar to drink. North Carolina State University encourages landscape designers to incorporate native plants into urban places, not just for wildlife but also to keep the environment more in balance. Certain non-native species are invasive, spreading fast and choking out vegetation around them.
Connection
Urban landscapes make coexistence and communion between people and nature possible, especially people who work in sterile, impersonal spaces. "Professional wisdom and folklore have long endorsed the idea that experiences of nature contribute to our well-being," according to an August 2000 fact sheet published by the Center for Urban Horticulture at the University of Washington. Using existing research, the center determined that even roadside landscaping can have a positive effect on stressed commuters whipping by.
Aesthetics
Flowers and lush foliage in flower beds and sidewalk planters provide fragrance and color. Tall trees soften the look of stark buildings, provide natural structure and have the added benefit of offering shade to cities, which traffic and activity cause to heat up more than rural areas. Shrubs offer color and serve as natural walls and barriers.
Education and Experience
Observing urban landscapes provides people with endless lessons on growing, seasonal changes, maturation, decay and everything else included in a life cycle. Books abound on the subject, as do actual encouragement and suggestions in some cities. Chicago, for example, suggests that visitors and residents "be active in the outdoors while living in the city" by visiting places such as the parks, Peggy Notebaert Nature Museum and the Lake Michigan shore.