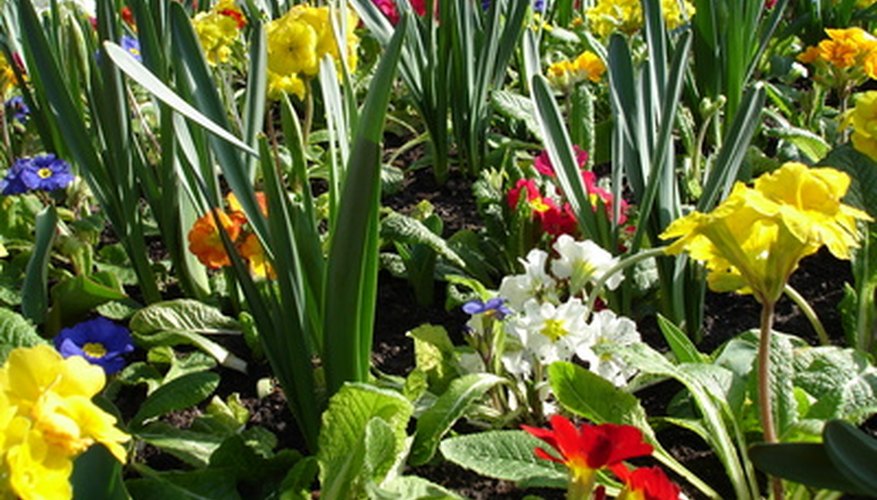 Bulbs are essential in the landscape since they are the first plants to bloom in the spring and continue to add color, fragrance and variety to flowerbeds through fall. There are enough varieties to keep a garden filled with blooms from the last snow to the first frost. Savvy gardeners know how to extend the blooms of favorite bulbs, but your climate will affect which bulbs you choose because they have different cold tolerances.
Bulb Types
Bulbs, corms and tubers are divided into spring and summer types. Spring bulbs are hardy enough to survive in frozen ground through the winter and emerge in the spring through late snows and frosts. Summer bulbs are more tender. They are planted in the spring and must be dug up in the fall and stored over the winter.
First Blooms
Snowdrops emerge even before the snow has melted, along with other early bloomers like glory of the snow and winter aconites. Plant them in the fall six weeks before the first frost is expected. Spring bulbs are tough and thrive in poor soil and little fertility and actually need extreme cold to develop roots and flowers.
Mid to Late Spring
Gardeners like to clump mid to late spring bulbs like hyacinths, grape hyacinths, crocus, tulips and daffodils randomly across their lawn. "Naturalizing" imitates the bulbs that emerge in meadows and makes a better display than single blooms. Clump varieties that bloom in the same month, but at slightly different times, to create a constant display of flowers. A trick to extending the bloom time is to plant bulbs at two-week intervals, ensuring they will flower in succession, not all at once. Stop planting in early July to give the plants time to develop and mature before frost.
Summer Bulbs
Gardeners planning for summer bulb displays consider flowering times and combine several varieties such as dahlias, calla lilies, peacock flower, Star of Bethlehem, multi-hued ranunculus, iris, lilies and daylilies to provide constant blooms. Summer bulbs bloom longer than spring varieties, so a bed of lilies can provide color and fragrance for months with a mix of canna, Asiatic and daylilies.
Plan Ahead
Provide a constant display of flowering bulbs throughout the summer with tubers such as begonias, which bloom continuously. Tuberous begonias are excellent container plants, while fibrous begonias flower through the summer in shady beds. The last bulb to bloom, the meadow saffron, adds its crocus-like flowers to fall beds. It is a signal for gardeners to get ready to dig up their summer bulbs and store them six weeks before the first frost is expected. Then they can spend the winter planning where to plant them.