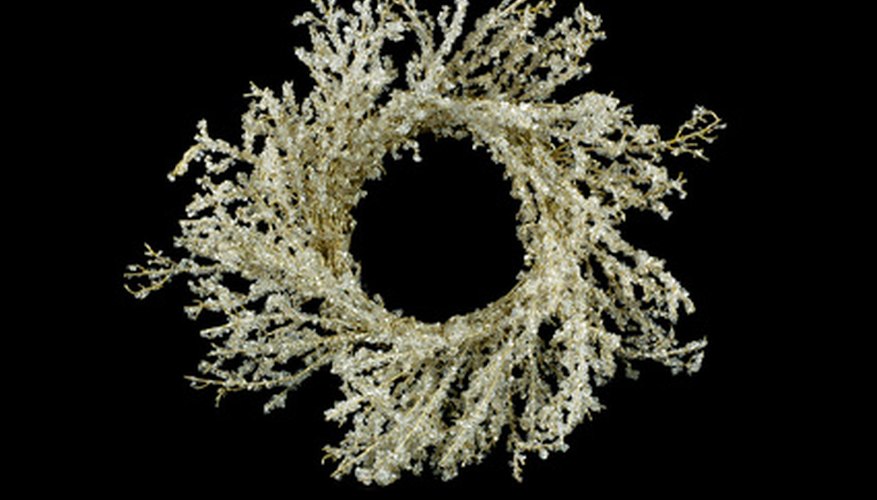 christmas wreath image by William Berry from Fotolia.com
The Osage orange tree or Maclura pomifera, produces large greenish yellow fruit that are up to 6 inches in diameter. These fruit have a wrinkled texture on the outside and a fleshy inside with seeds. The fruit are often placed in homes to repel insects, such as spiders, naturally. In addition to repelling insects, the fruit can be used to make decorations. Osage orange fruit is also known as hedge apples, monkey balls or monkey brains.
Drying the Fruit
Cut the fruit into half inch slices using a large knife.
Lay the fruit slices in a single layer on a cookie sheet.
Dry the slices. Slices of fruit can be air dried in a day or two. If faster drying is desired, use an oven. If the oven has a pilot light, the heat from that light is enough to dry the slices over five days. Otherwise, use the lowest heat setting, and check the slices every half hour. Drying using an oven without a pilot light can take as little as four hours.
Decorating the Fruit
Paint one side of a fruit slice or one side of the whole fruit.
Sprinkle glitter onto the painted area, if desired.
Let the paint dry for the time recommended on the can of spray paint.
Repeat steps 1 to 3 for the remaining side of the fruit slice or the unpainted areas on the whole fruit.
Make an Ornament
Dry the Osage orange slices.
Decorate both sides of the Osage orange slices with spray paint and glitter.
Insert an ornament hanger through the decorated slice.
Hang the ornament on the holiday tree.
Make A Whole Fruit Centerpiece
Decorate several whole fruits.
Place the whole fruits into a large decorative bowl.
Add other seasonal objects to the bowl, such as pinecones, berries or small gourds.
Place the centerpiece on the table.
Make a Wreath
Select a wreath. A plain wreath may be covered with several slices. A simply decorated wreath can be enhanced by adding slices of Osage orange.
Decorate several Osage orange slices.
Attach the slices to the wreath using floral wire.
Things You Will Need
Large chef's knife

Spray paint

Glitter

Floral wire

Ornament hangers

Wreath

Tarp, large cutting board or disposable tablecloth

Large decorative bowl

Foil or an old muffin tin

Oven
Tip
Place the slices of Osage orange over foil balls or in an old muffin tin to create bowl shapes.
Warning
Use firm fruit for crafts. Do not use fruit that is soft or rotting, otherwise the sticky sap may escape and ruin the surrounding surfaces.