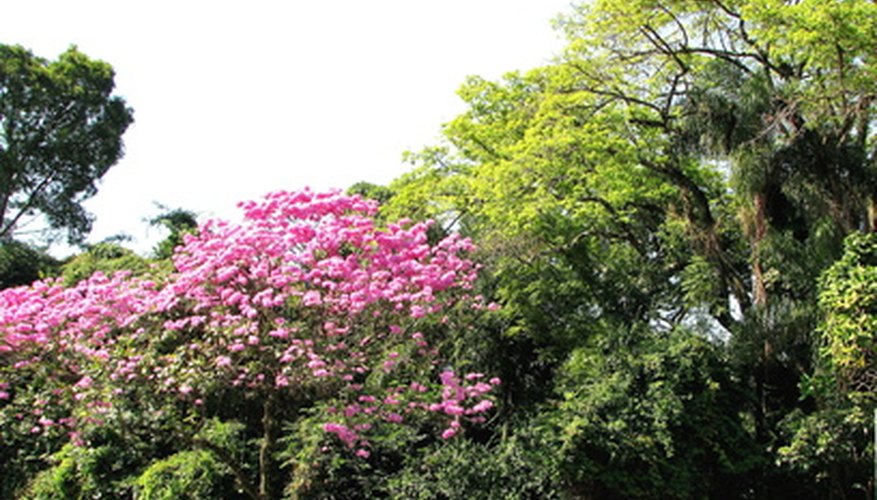 Ipe wood comes from the exotic Brazilian ipe tree (Tabebuia). A rain forest tree, the ipe towers over other Amazon trees. It often attains a height of up to 160 feet with a trunk of up to 6 feet in diameter. The tree's sheer size enables decking to easily be milled into 20 foot lengths. The wood is up to two to three times harder than oak and eight times harder than California redwood. When used on exterior woodworking projects the wood will last up to 20 years with no treatment due to its rot and insect resistance.
Drying and Shrinkage
Allow all ipe wood purchased for a woodworking project to air dry for a few days. The wood is normally dried in a kiln or partially air dried prior to sale but the wood does have a reputation for shrinking after purchase. When using 4-inch boards expect the wood to shrink 1/16 of an inch. When using 6-inch boards the estimated shrinkage is 3/32 of an inch.
Sealing and Drilling
All ipe boards are sold with the ends sealed in a clear wax to prevent checking. Checking results when the wood fibers of the ipe wood begin to separate at areas where the wood has been cut. The occurrence is a natural process that the wood goes through where it loses moisture in the cut end. The loss of moisture causes cracking of the ends. Always use a clear wax to seal the cut ends of the wood and prevent checking. When drilling or sawing ipe wood use carbide tipped saw blades and drills for smooth, long-lasting results.
Finishing
Ipe wood requires no finishing or preservative applications because it is rot and insect resistant. Over time it ages to a soft gray. If the home owner does not wish natural fading to occur and wishes to maintain the wood's dark olive green shading, a finish must be applied to prevent the wood's natural change in color. A finish with a strong UV protectant will help keep the wood's color new for one to two years before reapplication is required.
Finish Application
Apply finish lightly to ipe wood. Over application can result in a sticky feeling to the wood. It will also create a puddling appearance on the wood's surface. Never stop finishing the wood and then return to the project later because this will give the wood a contrast that is often visually unpleasant. Apply the UV finish with a rag to control the application amount and to better work the finish into the wood's surface.
Restoration
Ipe wood that has already faded to silver with age can be restored to its new natural brown color. Pressure washing will restore the wood's coloration. Sanding can also help the wood gain back its original color. Care should be taken when sanding ipe wood because it creates a fine, yellow dust that causes an allergic skin reaction in sensitive individuals. Any time ipe wood is drilled or sanded a face mask should be worn because the dust can cause respiratory reactions to occur if inhaled, according to Calfinder.
Fastening
Always use top of the line screws and fastening devices when dealing with ipe wood. The wood is extremely hard, so once secured properly the wood will not pull away, pull up, crack or fracture. Areas that have been penetrated with nails or screws will not suffer rot when water pools within them because of the ipe tree's superior resistance.
Fire Resistance and Preservatives
Unlike other woods, such as red cedar, ipe wood offers fire resistance with no chemical treatment. There is never a need to apply toxic copper chromated arsenate treatment. Ipe would will not accept preservatives well. The substance will not soak into the wood because of its density. The wood has its own preservatives so application of chemicals is discouraged, according to Woods the Best.
Resources