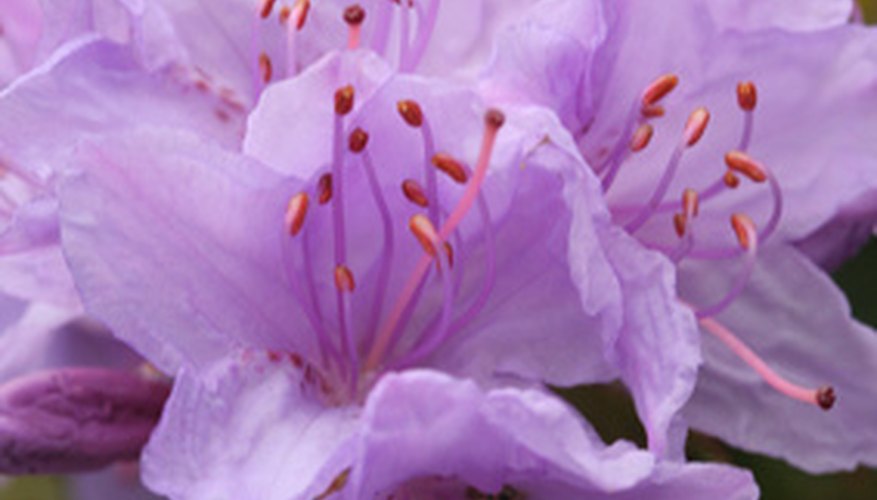 Lace bug infestations of your azalea flowers can result in severe cosmetic damage of your blossoms. Fortunately, there are warning signs that let you know you have a problem before the damage is done. Familiarize yourself with what to look for and the proper insecticide to apply to keep your home garden azaleas vivid and healthy.
Care
Properly cared for azaleas remain vigorous and are more likely to ward off infestations than weakened plants. Grow your azaleas in areas that provide partial shade and cool temperatures. Azaleas thrive in well-drained, acidic soil with a pH of 4.5 to 6.0, according to the Clemson University Extension. Consistent maintenance lowers your chances of needing to apply insecticides to your plants to control pests.
Description
Azalea lace bugs (Stephanitis pyrioides) are translucent in their nymph stage, take on a light yellow-green cast as they mature and their color darkens as they age. Their adult bodies display spines and their black and white wings appear latticed and resemble lace, as their name suggests. Adults measure approximately 1/4 inch in length, according to the Oregon State University Extension.
Effects
Azalea lace bug eggs that were laid beneath leaves hatch during May after overwintering, according to the Oregon State University Extension. These lace bugs are "sucking" bugs that remove sap from plant tissue. Look for small black specks on leaves, as this is azalea lace bug excrement that acts as a red flag, letting you know an infestation is under way. Particularly during extreme cases, leaves may completely lose color and appear white.
Resistance
Resistant azalea plants are not immune to lace bug infestations, but are much less likely to experience a problem. To avoid the use of chemical insecticides and to prevent the occurrence of damaged azaleas, plant Indica alba or Flame Creeper for white hued resistant flowers or Rosebud for a pink option, according to the Oregon State University Extension.
Control
Insecticides for azalea lace bugs offer effective control. For a gentler insecticide, apply insecticidal soap or horticultural oil. For a stronger chemical control method, use chemical insecticides with the active ingredient azadiractin or befenthrin, according to the Oregon State University Extension. Since insects must make direct contact with the insecticides, make sure to cover the entire undersides of leaves and begin application during spring when you first notice the presence of nymphs. Apply once more within a week and then monthly, according to the University of Tennessee Extension.