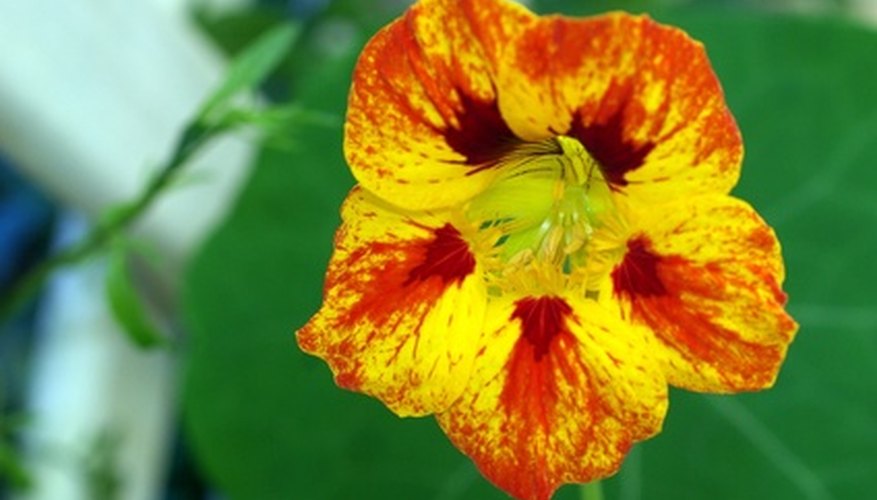 Dwarf annual flowers provide all the color of full-size varieties but are suitable for planting in small beds, borders and containers. Spring-blooming annual flowers make a good choice in summer perennial beds to provide early season color before the perennials begin blooming. Many flowers come in dwarf varieties, allowing you to plant some of your favorites.
Nicotiana
Dwarf nicotiana (Nicotiana alata) provides color on compact 7- to 10-inch-tall plants. Flowers bloom in mid- to late-spring once frost danger is past and the days are warm. Nicotiana works well in pots and beds near outdoor seating areas where the flower's sweet fragrance is easily enjoyed. Dwarf nicotiana also grows well in partial shade, either in shaded beds or growing under taller spring flowers.
Snapdragons
Producing several flowers along a single spike, dwarf snapdragons (Antirrhinum majus) provide all the color and interest of regular types without the size. Heights vary depending on the specific variety, but range between 4 and 12 inches tall. Snapdragons grow best in cool, partially shaded areas making them suitable for spring when night temperatures are cool but not freezing. Dwarf varieties come in colors ranging from white to deep red.
Sweet Alyssum
Sweet alyssum (Lobularia maritima) produces a mass of small blooms in colors ranging from white and pink to purple and red. A cool weather flower, sweet alyssum blooms best in spring with the flowers fading under summer heat, though the plant may bloom a second time in fall. Fragrant blooms grow on dwarf plants of approximately 8 inches tall. The plants quickly spread and fill out beds and containers.
Dianthus
Dianthus, commonly called carnations, comes in many dwarf varieties that range from 1 to 8 inches tall. Flowers come in single or multi-petaled varieties in either white, lavender or pink. Dianthus blooms early and continues to flower from early spring until fall frost. Dianthus self-seeds well, so may not require the yearly replanting that other annual flowers require.
Nasturtiums
Dwarf nasturtiums (Tropaeolum majus) provide one of the tallest of the dwarf blooms. While regular nasturtium varieties reach up to 3 feet tall, dwarf varieties reach between 6 and 18 inches tall. Available in a range of colors, nasturtium quickly fills in beds and containers with masses of large-petaled flowers. Nasturtium thrives in cool spring temperatures and tolerates partial shade.