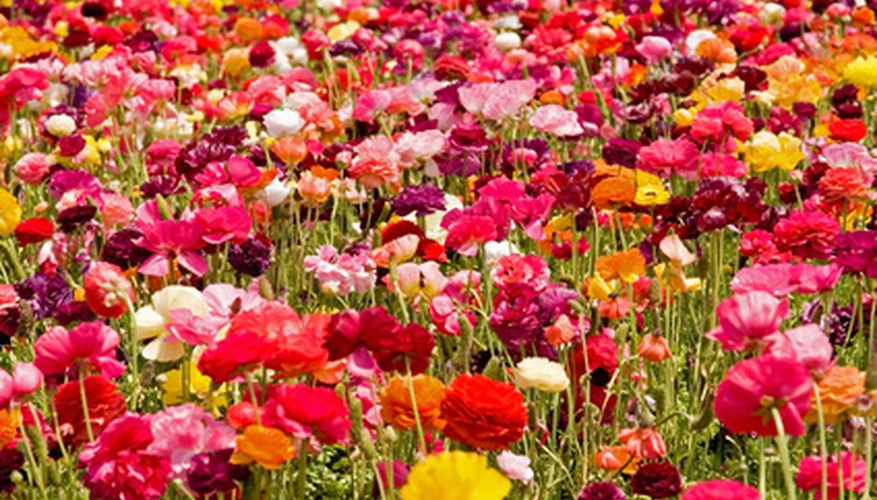 Widely grown for cut flowers, ranunculus bulbs (Ranunculus asiaticus) reliably produce many individual flowers from a single tuberous bulb. Also called Persian buttercups, they bloom for several weeks in late spring and make excellent cut flowers. Ranunculus bulbs should be dug up before winter and stored in areas outside of their hardiness zones. Replant them in early spring, as soon as the soil has thawed.
Appearance
Growing 8 to 24 inches tall, ranunculus produce dozens of 3-inch blossoms from each bulb. The double or semi-double flowers look like old-fashioned cabbage roses and last for weeks as a cut flower. The crepe paper-like flower petals can be red, orange, pink, yellow, white, cream or variegated. The dark green basal leaves of ranunculus are lobed and hairy.
Site Selection
Grow ranunculus in full sun to partial shade. They prefer light soil, but will grow in loamy clay soil as long as it is well-drained. Ranunculus tolerates soil pH levels from slightly acidic to slightly alkaline and is reliably winter hardy in U.S. Department of Agriculture Hardiness Zones 7 through 11.
Propagation
Ranunculus grow from claw-like bulbs or tubers. Increase your supply by dividing the tubers when they grow large and have several "eyes," or growing buds. Cut them into smaller sections, ensuring that each section has at least one eye from which new growth can emerge.
Cultivation
Plant bulbs in late November in warmer areas and late February in the northern areas of its hardiness zones. Soak them in room-temperature water for 24 hours before planting. Space the tubers about 6 inches apart in groups of three to five in a flower border or in rows spaced 12 to 18 inches apart in a flower-cutting garden. Do not water until the stems emerge. Cut off dried flower heads to increase flower production. When the foliage dries up after midsummer, withhold water or dig them up and store them in a dry place until planting time.
Pests and Diseases
Few pests or diseases bother ranunculus, although they are susceptible to powdery mildew, aphids, mealybugs and spider mites. Treat these pests by spraying ranunculus with anti-fungal spray for powdery mildew or insecticidal spray for aphids, mealybugs and spider mites.