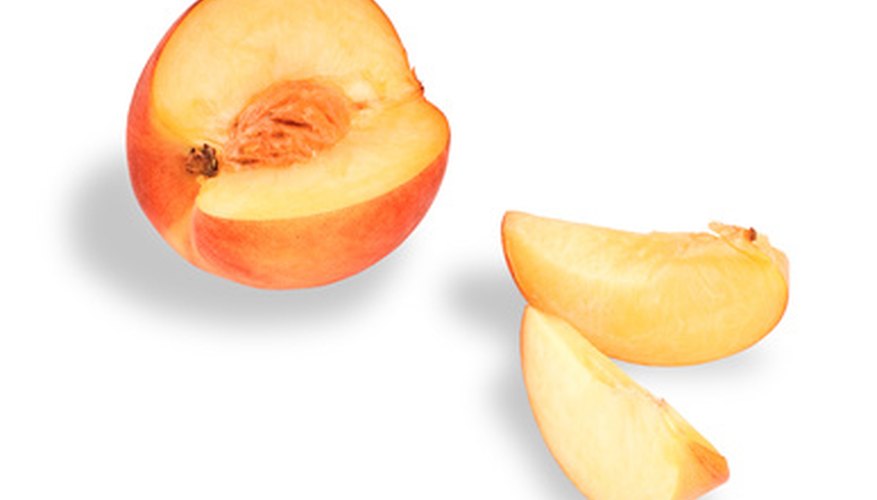 While Bradford pears are common sights along city streets, those tidy, pollution-tolerant spring-blooming trees come from China. They have no connection to the much less familiar Bradford peach trees produced and marketed in Southern California. The results of decades of research, Bradford peaches have made serious inroads in the global peach market. They also make excellent ornamental trees.
Producer
B Q Genetics is a division of Bradford Farms. Norm Bradford bought the rights to the F.W. Anderson fruit breeding program in 1981, establishing Bradford Farms in LeGrand, California, The Bradford farms operation was the leading producer of yellow-flesh nectarines through the 1990s, when subsidiary Bradford Genetics developed white-fleshed nectarine and peach cultivars to expand its market, according to Desmond R. Layne and Daniele Bassi, authors of "The Peach: Botany, Production and Uses." Bradford Genetics became B Q Genetics following Norm Bradford's 2010 death.
Early Research
Bradford's initial efforts were to produce white-fleshed, high acidic peaches for the French market, but early results gave them low-acid white fruit popular in Asia. Three trees from those efforts--Snow Princess, Ivory Princess and White Princess--now have a global market.
Current Research
Bradford's current focus is developing low chill peach cultivars. All dormant fruit trees need to spend a certain number of hours at temperatures between 32 and 45 degrees F before their spring growth begins. Trees with low chilling hour requirements will grow in areas with warm winters. As of 2008, Bradford peach tree cultivars accounted for 6 percent of the California market. A wider selection of low chill varieties could increase that number.
Licensees
Bradford Genetics has assigned exclusive licensing rights to its peach trees. As of 2010, the tree brokerage firm TreeTime's license included patent pending, yellow-flesh clingstone peaches and yellow-flesh freestone peach Western Princess. Bright Nursery has an exclusive license to market yellow-flesh freestone cultivars Bright Princess and Diamond Princess, and yellow-flesh clingstones Crimson Princess and Princess Time.
Some Bradford Cultivars
Introduced in 2002, Bradford's August Princess cultivar is a large, heavily bearing upright tree. Its dense branches have pale, pinkish-purple self-pollinating spring flowers. Ripening in mid-August in California, its globe-shaped peaches have deep-red skin fading to pink. Its crisp, white clingstone flesh is sweet, according to the USDA's Register of New Fruits and Nuts. Also new for 2002 was Candy Red, a medium-sized self-pollinator with early- to mid-June ripening and red to red-orange fruit. Its clingstone peaches have sweet, firm bright yellow flesh.