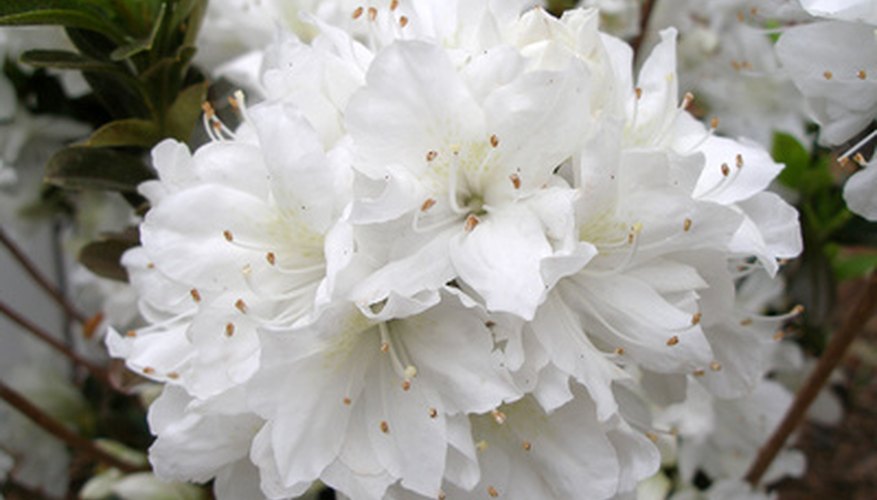 Flowering shrubs have showy, often fragrant flowers that blossom during spring and summer. Often used for privacy, or to add lasting color to a landscape, shrubs can reach more than 20 feet tall or can be as small as 2 feet. Flowering shrubs serve a variety of uses in any landscape. Identify them by height, bloom season and ability to attract wildlife.
Function
Smaller shrubs that grow to 4 feet tall are ideal for small yards or as accents for perennial flowers. Hydrangea is a small shrub with white, blue or pink flowers; it will grow in full sun or part-shade and needs protection from wind. Flowering shrubs that reach heights of more than 6 feet make effective privacy screens or hide walls or fences. Forsythia is a tall shrub used for borders that blooms in spring; it grows best in full sun and moist soil.
Benefits
Flowering shrubs produce flowers that attract wildlife. Honeysuckle attracts hummingbirds with its scented, tube-shaped flowers. Some honeysuckle varieties grow as a vine but the Emerald Mound and Mini Globe are compact shrub varieties that bloom in full sun or part-shade. The butterfly bush that produces purple, pink or blue flowers attracts butterflies. Purple-leaf sand cherry, a deciduous shrub, attracts birds with fragrant, pink-tinted, white blooms and small purple fruit.
Features
Found throughout the United States, flowering shrubs grow in a variety of climates and soil conditions. Azaleas, including the Admiral Semmes cultivar, prefer humid areas; they commonly grow in the southeastern United States and other warm climates. The blue mist spirea cultivar, First Choice, is drought-tolerant and prefers hot areas. Butterfly bush thrives in moist, sunny or partly shaded areas. Beautyberry, used as a hedge, grows in zones 5 to 8, produces pink flowers and tolerates medium moisture in full to part sun.
Time Frame
For an ongoing display of blooming flowers, plant different varieties that can produce flowers from spring through late summer. The blue mist spirea blooms from July to September in shades of blue and purple. Flowering quince has white, pink or red blossoms in early spring and bears fruit infrequently. A flowering shrub that will bloom from spring to fall is the shrub rose; when grown in full sun it produces fragrant, pink blooms against dark green leaves.
Considerations
Once established, most flowering shrubs require little maintenance, but to encourage flower growth, cut back shrubs annually. Many flowering shrubs can grow to 20 feet tall, which may cause problems if planted underneath power lines or in an area where the shrubs will affect traffic. Deciduous, flowering shrubs provide seasonal changes and colorful foliage in addition to showy blossoms. Shrubs provide protection from cold winter winds and shade for hot summer days.