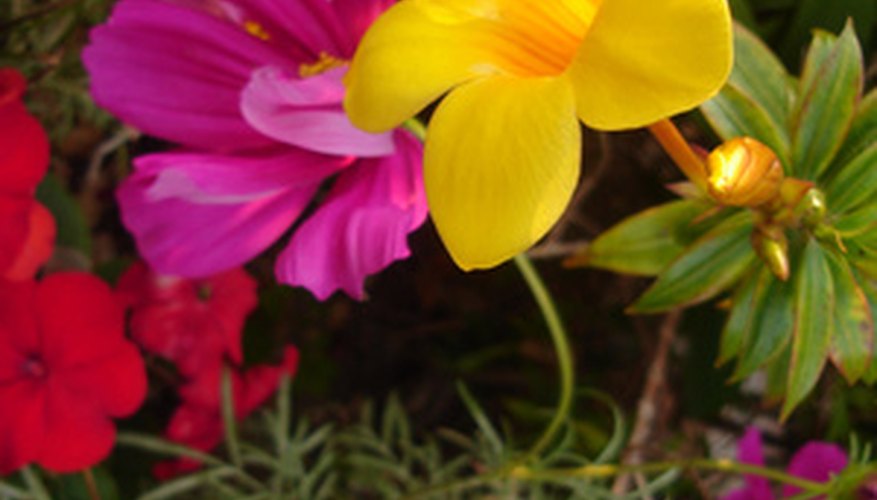 Raised flower beds add a decorative element to any landscape design and they make gardening more enjoyable. Raised beds warm up more quickly in the spring, allowing bulbs and perennials to sprout earlier. Poor soil is easily improved by adding compost or premium potting mix. Additionally, raised beds are easily accessed, requiring less stooping. Choose durable, high-quality materials and install them properly for years of care-free beauty.
Concrete
Concrete edging comes in preformed shapes, available at gardening stores, or can be custom designed on site. Custom-designed concrete forms provide neat, permanent edgings and can be formed around angled or curved flower beds. For a decorative element, add color, texture or stamped designs to concrete edging.
Bricks and Pavers
Create a raised edging with landscaping bricks or pavers. Stack landscaping bricks to create the desired edge and reinforce with mortar for a long-lasting edging. Pavers resemble stones and come in a variety of hues. They are solid enough to stack without any mortar.
Stone
Stone is one of the most costly edging materials, but creates a beautiful, natural look. Stone comes cut in many sizes and can be jutted closely together, requiring no mortar reinforcement.
Wood Timbers
Wood timbers are an economical, natural option for straight-edged raised beds. Choose rot-resistant cedar or pressure-treated wood and cut to the needed sizes. Secure wood timbers by nailing 8-inch-long wood pins through them.
Metal Edging
Heavy duty aluminum or steel edging is economical and simple to stall. Mark the layout of your flower bed with powdered chalk and dig a trench 5 inches deep along the line. Use a crescent trowel to dig the trench just wide enough (1 inch) to install the metal edging. Metal edging can be bent to create curves and angles. Select a heavy-grade, rust-resistant edging with a rubber coating at the top to protect feet from cuts.