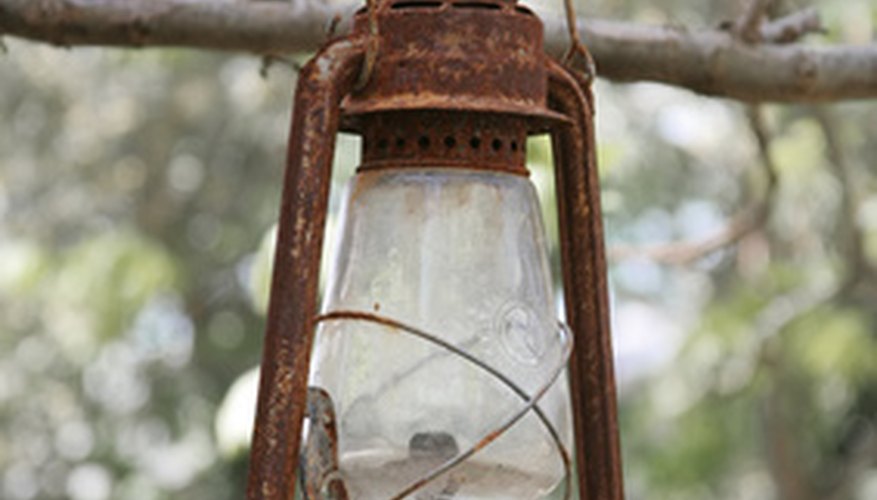 Summertime brings with it outdoor picnics, family reunions and barbecues, and the centerpiece you decorate the outdoor tables with should have a rustic, country flair to it. Using an old lantern along with sunflowers straight from the garden will provide this ambiance. This centerpiece can be functional, as well as decorative, when a candle is placed inside the lantern lighting the way for the party well into the night. Browse yard sales, thrift stores and perhaps a family member's old farm to find an old lantern for making this economical centerpiece that will gain approval from your guests.
Clean the old lantern with a damp cloth to remove dust, dirt or cobwebs. A steel wool pad can be used to scrub off any rust if desired. A rusty old lantern adds an antique feel to the centerpiece.
Select a candle to fit inside the lantern, such as a pillar, taper or votive candle, depending on the size of the lantern. Place the candle inside the lantern.
Set the lantern in the middle of a wooden or metal serving tray. Place the tray in the center of the table you are decorating.
Select about five to six small glass jars, such as jelly jars. Fill each jar about three-quarter full of water and set on the tray spaced evenly around the lantern. You can find jelly jars or small Mason jars at thrift stores or garage sales. Use different size jars for a variation.
Cut sunflowers early in the morning before the late morning sun can cause them to wilt. Cut the stems to about 3-inches in length or whatever size will fit into the jars. Cut the stems at a 45-degree angle so they soak up the water better.
Place one or two flowers in each jar depending on the size of the jars and the flowers. Cut two pieces of raffia for each jar, about 8-inches in length. Holding two pieces together, tie around the jar near the top and tie into a bow. Repeat for each jar.