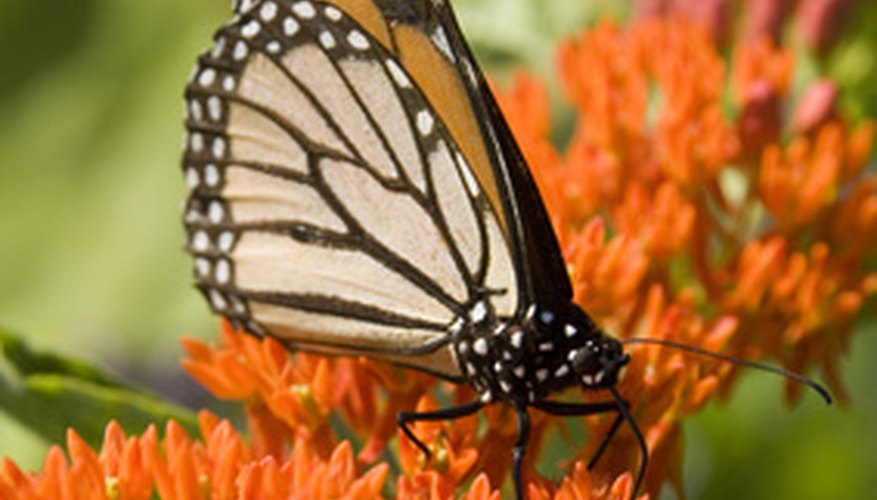 Butterfly weed (Asclepias tuberose) is a plant designed to cater to its favorite pollinator, the butterfly. Its height, in particular, helps keep its branches of clustered bloom displays at an optimal height to be found by adult butterflies. The orange and yellow color, along with the abundance of sweet nectar, attract the butterfly (and some hummingbirds). The clusters are shaped like a flat, butterfly-sized landing pad.
Standard Height
The Texas A&M University Aggie Horticulture Extension lists butterfly weed as growing from 12 to 24 inches tall, while the Lady Bird Johnson Wildflower Center has it listed between 18 and 24 inches in height. Growing conditions, local climate and soil structure generally account for a difference in standard range of height of butterfly weed.
Advantages
Butterfly weed is, as its name implies, a plant dedicated to butterflies. Its leaves play tasty host to monarch and queen butterfly larvae, while its colorful flowers rise up above other wildflowers to act as a beacon to adult butterflies. This height is crucial to helping the butterfly weed attract its butterfly pollinator.
Gardening Considerations
At about 2 feet in height, the bright orange and yellow clusters of butterfly weed flowers can be a stunning backdrop to lower-growing wildflower species. It's not a good idea to put butterfly weed on the edges of paths or at the front of a garden, because the leaves will invariably be chewed to nothing by butterfly larvae or sucked dry by aphids. Hide them behind a forefront of foot-tall shrubs, wildflowers or perennials.
Environmental Boons
Full sun and nutrient-rich, well-drained soil will promote good growth and overall health of butterfly weed plants. Don't worry if it hasn't reached its full height the first year after germinating from seed, it will keep growing. While it can tolerate droughts somewhat, butterfly weed grows well with deep watering when the soil becomes dry 2 to 3 inches deep.
Environmental Pitfalls
While shadier areas will certainly encourage the butterfly weed to grow tall, the plant will not flourish as a whole without at least six hours of sunlight. It may not even bloom if the shade is too dense. Very shallow, rocky, nutrient-poor soils may stunt the growth of butterfly weed, so that it won't reach its standard height. Butterfly larvae do not stunt the growth of butterfly weed, as this plant has adapted to grow with the rhythms of butterfly development.