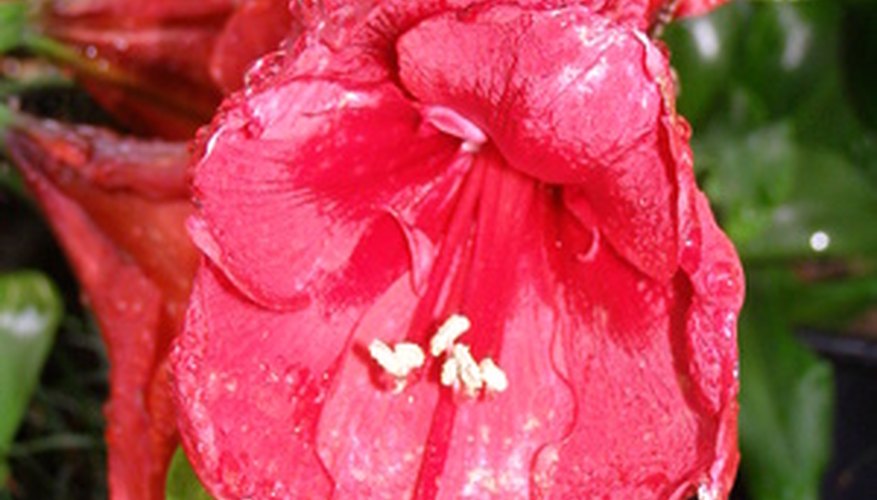 The amaryllis plant is a subtropical to tropical variety. It grows from a bulb, forming a trumpet-like flower that appears on a leafless, 2- to 3-foot stalk. Amaryllis produces either single or double flowers in red, bright pink and orange as well as many other colors provided by cultivation. The amaryllis bulb requires care and storage before and after planting to produce the best flower possible.
The Bulb
The amaryllis produces a pure bulb that originated in South America. It is tender and will grow best when the temperature is between 70 and 75 degrees Fahrenheit. It must be at this temperature for nine to 10 months for both flower and vegetative growth. After the nine to 10 months of heat, it requires two to three months of cool temperatures in 55-degree dry conditions or 55-degree growing conditions.
Indoor Planting of the Bulb
The amaryllis plant bulb requires a well-draining soil. When planted indoors, do not use a growing medium that contains pine bark ,says North Carolina State University. A mixture of peat and perlite is preferred. A pot that is 6 inches in diameter is best. The soil pH should be between 6 to 6.5.
Outdoor Planting
The amaryllis bulb will only survive year-round outdoors in USDA climate zones 8 to 10. In climate zones other than 8 through 10, you must wait until the last chance of frost has passed. The plant bulb should be planted in the ground. The plug will require two to three fertilizations a month to survive.
Reflowering the Bulb
Learning how to reflower the amaryllis bulb will reduce planting costs. The bulb will only reflower when it has retained its original size or grown larger throughout the year. The bulb is placed at a temperature around 55 degrees Fahrenheit for eight to 10 weeks. Drying out the bulb, then placing it into a refrigeration unit or placing it in a cool location works. The bulb is then replanted.
Proper Placement
The bulb requires proper placement in the soil to keep it safe from disease and to keep it healthy for replanting. The bulb is planted with the upper half exposed above the soil, says Iowa State University. The soil is watered with lukewarm water, and potted plants should be placed in a warm place.