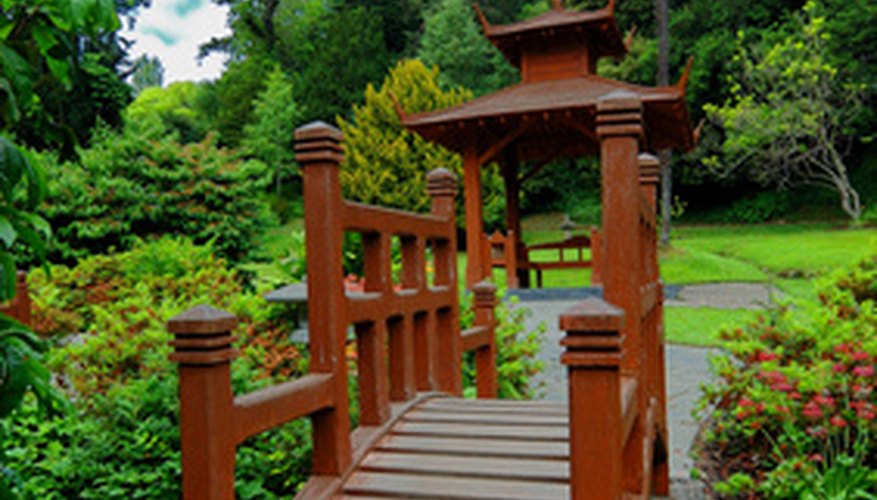 Japanese gardening tools for weeding are generally short-handled tools because of the need for closeness when eradicating these invasive plants. Traditional Japanese gardening tools were not made from stainless materials, according to Fine Tools. Some modern tool makers follow this tradition and use carbon steel, which can rust if not cared for properly. To keep nonstainless steel tools in excellent working condition, wipe tools down after each use and apply oil periodically.
Hori Hori Knife
The hori hori knife is a traditional Japanese digging tool that is used for many projects in the garden, including weeding. This tool has a concave-shaped multisided blade. One side is seriated and the other side has a flat sharp edge. The hori hori knife has about a 7-1/2 inch long blade and its wooden handle is 4 inches long.
Weeding Sickle
The kama or Japanese weeding sickle is a short-handled tool that is used for weeding. This tool has a wooden handle that is 8 inches long. The crescent-shaped blade is about 5 inches long. Other varieties are available, such as the crescent-shaped toothed blade or a wide hoe-like blade with a sharp edge.
Hoes
Japanese garden hoes come in several types. This tool is used for loosening the soil and digging up roots of weeds. Hoes have two styles of handles: long handles are about 3 feet long and short handles are 1 foot long. The Tsurukubi Gama, Kubinaga Nejiri Gama and Kusa Kaki are three types of short-handled hoes with blades that are only about 4 inches wide. The Ryoba Kama is a short-handled trenching hoe that has a shield-shaped blade. This hoe's blade is about 2 inches wide and 5 inches long. Triangle-shaped hoes are about 6 inches in length. The Katate Kuwa is a small-handled narrow blade hoe that has a width of 2 inches by 5-1/2 inches, while the Bachi Kuwa is a wide small-handled hoe that is 3 inches by 5-1/2 inches. The Sanbon Kuwa is a short handle three-prong hoe. This hoe is also available in a long-handle style.
V-Shaped Weeder
The Japanese V-shaped weeder is a long-handled garden tool that has a V-formed steel end. The wooden handle is 4-1/2 feet long and is made from white oak. The blade of the tool is about 5 inches wide and 9 inches in length. The blade is forged in stainless steel or carbon steel. This tool is used for weeding and furrowing. The edges of the tool assist a gardener with breaking down the roots of invasive plants and digging up the soil.