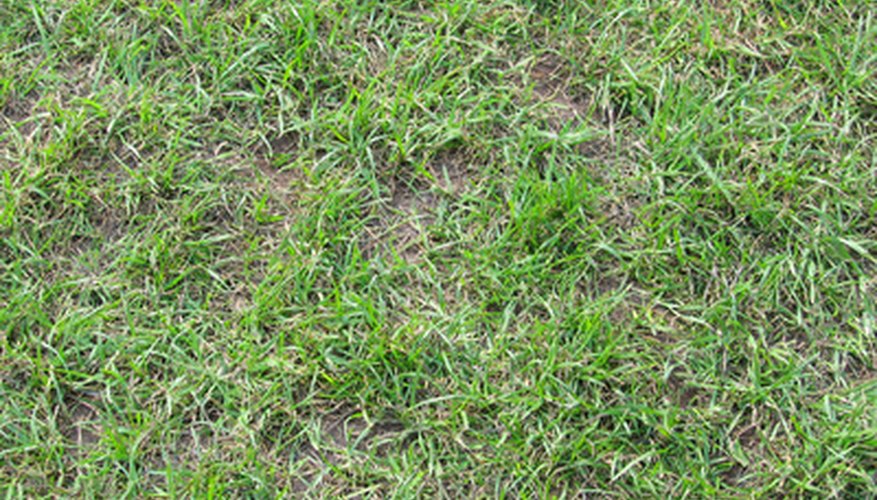 Cool season grasses like ryegrass and fescue benefit from overseeding. After a few years, plants slow down their rate or reproduction. This happens with grass, too. It doesn't grow as well and becomes more sparse in appearance. It is also more prone to disease or pest infestation. Using a lawn dethatcher to loosen the soil, then overseeding the grass will make your lawn thick and healthy.
Mow the grass to a height of 2 inches or less. Collect the grass clippings. Grass seeds need direct contact with soil to germinate.
Water the lawn well during dry weather.
Attach a pull-behind dethatcher to a riding mower. The dethatcher's metal tines will drag and penetrate the soil. Weigh down the tray on top of the dethatcher with cinder blocks or sandbags to make the tines go deeper in the soil. The goal is to scratch 1/8 inch into the soil surface.
Run the dethatcher over the lawn several times. Mow the lawn again to pick up debris the thatcher dislodged.
Overseed the lawn in late summer or early fall. Use a grass seed compatible with your region and any existing grass.
Divide the grass seed in half and fill a hand or mechanical spreader (depending on the size lawn you are overseeding) with half of the seed. Broadcast it over the grass by going row by row in a single direction.
Change directions and work in rows perpendicular to the rows you did first. Spreading the seed in two directions will ensure the best coverage.
Water the seed with a sprinkler set to an oscillating spray. Keep the seeds moist until they germinate.
Things You Will Need
Lawnmower

Bag

Dethatcher

Rake

Cinder blocks or sandbags

Grass seed

Spreader (hand or mechanical)

Water

Sprinkler
Warning
Do not swerve when using a mechanical or push spreader.