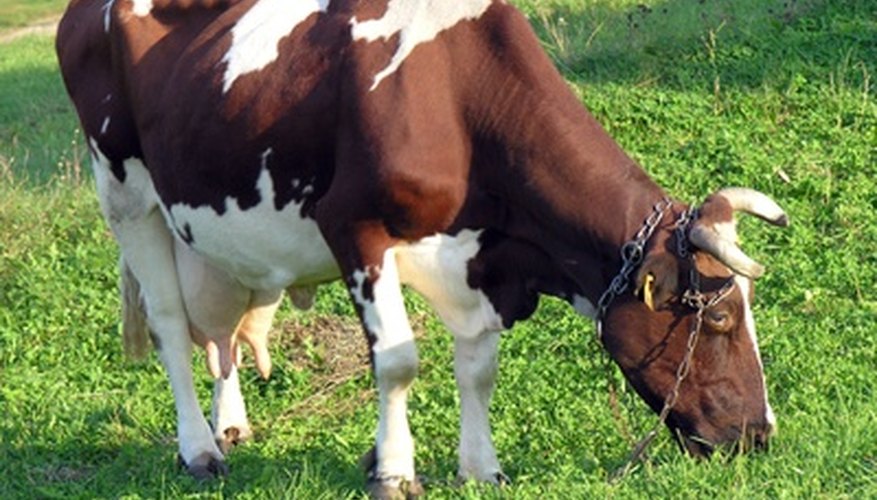 Ryegrass is a cool-season grass that establishes quickly and has a long growing season. A high-yield grass, it is a common fodder. It can require more fertilization for maximum productivity and is a water-intensive grass. Although it does best on soils that drain well, it can also grow on wet soils. Because it hybridizes easily, local varieties exist for most locations. Talk with a local seed company for varieties suited to your local climate and microclimate.
Annual Ryegrass
Annual ryegrass, also called Italian ryegrass, is native to southern Europe. Although called annual ryegrass, according to the University of Wisconsin, this grass can sometimes behave as a biennial or even a perennial with a short lifespan, depending on local growing conditions. In parts of the northern United States and Canada that get thick snow covers, the snow acts as insulation, allowing annual ryegrass to survive for five or more years. Annual ryegrass is planted as a winter pasture grass in the southeastern United States. Planted in the fall, it feeds animals over the winter and dies the following summer. There are two types of annual ryegrass. Forage types of annual ryegrass are taller and have a higher yield. Turf annual ryegrass is shorter, denser and has a lower yield. In addition to forage, annual ryegrass is often used as a durable turf grass.
Intermediate Ryegrass
In some cases, a forage grass may benefit from a combination of the productivity of an annual ryegrass and the hardiness of a perennial ryegrass. Intermediate ryegrasses are hybrids between annual and perennial ryegrasses. More productive than perennial and hardier than many annuals, this grass is often used as a pasture grass and for making hay. Intermediate ryegrass is often called short rotation ryegrass. Intermediate ryegrass is used less often as a turf grass than annual or perennial because it is less durable as a turf grass.
Perennial Ryegrass
Perennial ryegrass is native to Europe, Northern Africa and Asia. Primarily planted in the Pacific Northwest, it is a high-quality forage grass suited to mild climates. Perennial ryegrass is primarily used as a pasture grass for sheep and cows. Perennial ryegrass is hardier than annual ryegrass. It is a lower-growing grass, but is a highly productive forage grass. Perennial ryegrass is divided into varieties. One variety, called diploid, has two sets of chromosomes. The other variety, called tetraploid, has four sets. Tetraploid grasses are taller and less dense than diploid varieties. Tetraploids generally have higher yields than tetraploids. Perennial ryegrass is sometimes used as a durable turf grass in parks and on athletic fields.