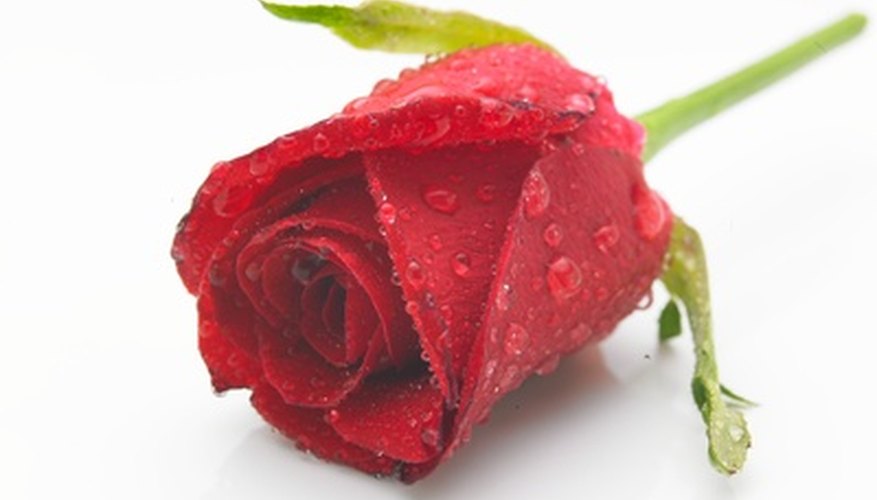 A fun and interesting aspect of creating a centerpiece for your table is to tailor it to current holidays or special occasions. Of course, the most well-known February "holiday" is Valentine's Day, but in the United States, the month of February also brings the national holiday of President's Day.
Use red roses traditionally associated with Valentine's Day to create a centerpiece for February. Use a minimum of three roses for a small arrangement or use as many roses as you want to create an arrangement the size you desire. Cut the stems so they are of varying heights for the most impact. Insert them into a large vase and fill in between the roses with stems of delicate baby's breath. To frame the arrangement and give it a more polished look, insert a few stems of ferns evenly spaced around the perimeter of the centerpiece.
Create a February themed centerpiece for Valentine's Day with a more delicate look by using miniature, or so-called "sweetheart" roses, in a delicate shade of pink. Add a few white, miniature carnations and stems of baby's breath to create a backdrop against which the sweetheart roses will stand out. Use a piece of florists' foam cut to fit the bowl which will hold the arrangement. Insert the stems one at a time, beginning with the sweetheart roses, and space them evenly in the foam. Fill the spaces between the roses with the miniature white carnations and baby's breath.
Put together a red, white and blue patriotic centerpiece for the United States' February holiday of President's Day. Begin by inserting six or eight white lilies evenly spaced in a piece of floral foam cut to fit the container for the centerpiece. Add eight to 10 full-sized, bright red carnations evenly spaced around the lilies. Finally, insert stems of blue delphinium or blue statice for the blue color and to add a spiky component to the centerpiece. Fill in with assorted greens from the florist for a polished look. Finally, insert one or two miniature U.S. flags to complete the patriotic feel of the arrangement.