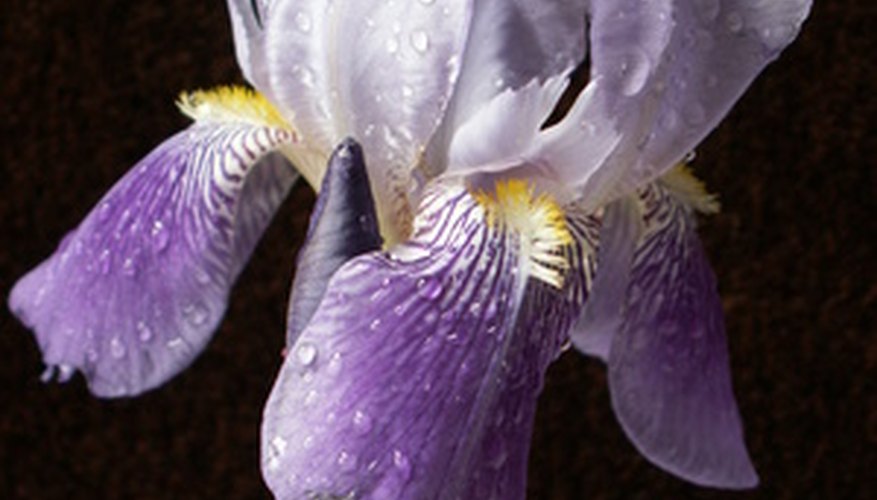 Iris are spring-flowering plants that bloom from spring until early summer in many parts of the world. The plant grows from a tuberous, bulb-like root known as a rhizome. Hardy rhizomes such as the type that belong to bearded iris or Siberian iris can overwinter in the ground in zones 3 through 10. In cooler climates, these bulbs should be dug up and stored through the winter.
Benefits
When left in the ground in warmer climates, iris plants need very little care. It is possible to see irises in bloom in the location of long-abandoned homesteads. Bulbs may be dug up, divided and replanted every three to four years to decrease crowding and increase the display of flowers. During this time, extra bulbs may be stored until you can give them away or sell them.
Considerations
The most common killers of stored bulbs and rhizomes are mold, rot or fungus. These conditions develop when irises are improperly stored so that they are exposed to a damp environment. Signs of iris problems include soft patches that are indicative of rot, or discolored patches that may be caused by mold or mildew. In order to store your rhizomes properly, you must place them in a dry environment.
Prevention/Solution
Avoid storing your rhizomes in plastic storage tubs. Although a plastic tub will keep nearby moisture out of its contents, if any moisture is present, the container will lock the moisture in and prevent drying. Rhizomes sometimes have moisture present in the soil that they are dug from. This soil may cling to the rhizome, preventing it from growing well in your garden. A better solution is to store rhizomes in a container with permeable sides, such as a milk crate or a paper grocery sack.
Effects
In addition to storing iris rhizomes in a permeable container, you should pack them in a moisture-absorbing packing medium such as sphagnum peat moss or coir fiber. The fibers of sphagnum peat moss or coir will absorb any moisture in the rhizomes and prevent them from developing mold. Rhizomes should be packed into containers in such a way that they do not touch one another.
Expert Insight
According to North Carolina State University, bulbs and rhizomes should also be placed in a cool, dark location such as a dry basement, garage or utility shed. The optimal storage temperature for irises is between 41 and 50 degrees Fahrenheit.