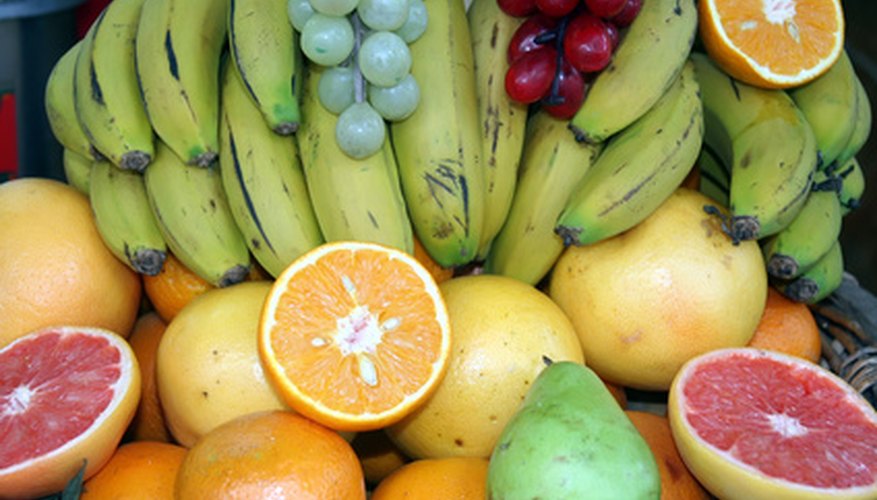 Edible fruit bouquets make an attractive centerpiece. Because the fruit bouquet is made with cut fruit, you should create and assemble it at the last minute. You can do some preparation work in advance, but save the final assembly for shortly before guests arrive. If you must make the fruit bouquet in advance, plan to refrigerate the bouquet until it is time to serve.
Types of Fruit
Choose fruit that is ripe but not too soft. The best fruits will hold their shape well on skewers and won't oxidize or change color. The most popular fruit types are honeydew, cantaloupe, pineapple, grapes and berries. A small head of lettuce or cabbage that will fit inside the container you plan to use for the arrangement works well to support the skewered fruit.
Size
When deciding on the size of fruit bouquet to make, plan on two skewers of fruit per guest, plus a few extras, especially if you decide to dip some fruit in chocolate. The fruit bouquet should be appropriately sized to accompany the rest of the food. If you expect a large number of guests, consider making two bouquets instead of one oversize bouquet.
Time Frame
The fruit that needs to be cut (such as melons and pineapple) can be cut in shapes the day that you will be serving the fruit bouquet. Pineapples make excellent flowers. Use a metal flower-shaped cookie cutter so that the flowers are uniform. Once you've washed and cut all the fruit, stack it onto bamboo skewers. Remember to vary the pattern of fruit. Make some skewers narrow (use a stack of grapes or alternate with blueberries) to fill in the places between the melon and pineapple flowers. Store the prepared skewers in the refrigerator in plastic bags or an airtight container until about 45 minutes before guests are scheduled to arrive. Build the bouquet, sticking the skewers into the head of lettuce to keep them in place.
Considerations
If you choose to dip some of the fruit in chocolate, purchase chocolate specifically made for dipping, as it will dry faster than melted chocolate chips. Any fruit that is to be dipped must be completely dry, or the chocolate will seize and have to be discarded. Make some extra skewers to replace torn fruit. Keep the extras in the refrigerator until you need them. Do not freeze the fruit in advance.
Effects
By skewering the fruit in varying patterns and heights, you will create a visually appealing edible flower bouquet. Your creation can serve as a unique centerpiece for your event that guests will appreciate and remember.