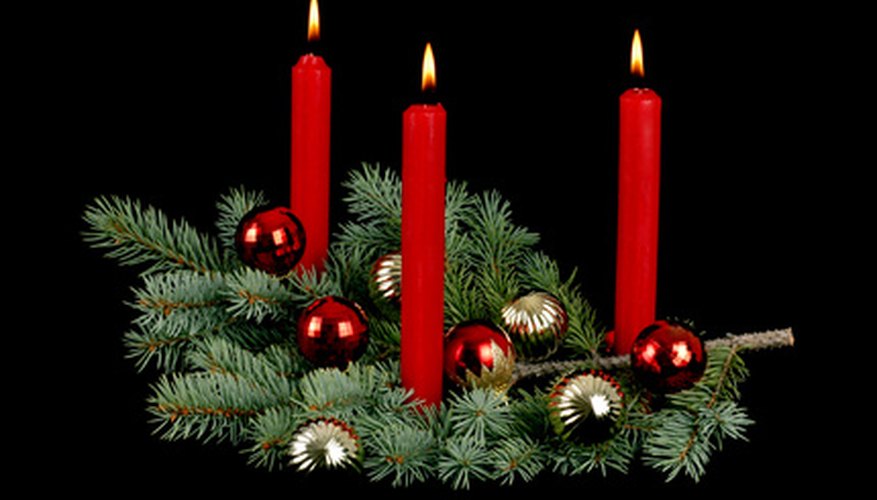 Pine branches are commonly used to make winter and holiday centerpieces. White pine will hold the needles longer than other types of pine. The size and shape of the centerpiece should be balanced to the size of the table you are using it for. A single pillar candle with pine branches around the bottom is just right for an intimate table for two, while a 5-foot centerpiece may work for a long dining table for 20. You can spend one-half hour to make a last-minute piece or several hours for your holiday dinner table.
Soak the floral foam ring in water until it turns a dark green and set it on a drain board or rack and allow it to drip out the excess water.
Place the ring in the wreath frame. Cut the pine branches to the length you want them and stick the cut end in the foam. By cutting some of the branches longer and placing them at either end you can change the shape from a circle to an oval. Pin the branches closest to the foam with floral pins to hold them in place. Cover the entire ring, so you can no longer see the foam or the frame.
Cut the holly sprigs on a 45-degree angle to make a sharp point and stick them into the foam. Spread them around evenly on the ring.
Wrap floral wire around the stem of the poinsettia flowers and stick the wire into the foam. Use three to five flowers on a small centerpiece, five to seven to make a medium centerpiece and seven to nine for a large one.
Place your centerpiece on the center of the table and insert a large red pillar candle into the center. Light the candle only when you are in the room as dried pine and flowers are highly flammable.
Place small Christmas balls, small candy canes or tiny wrapped presents on the centerpiece for Christmas. Use nuts and berries for Thanksgiving and small snowflake decorations and pine cones for a winter centerpiece.