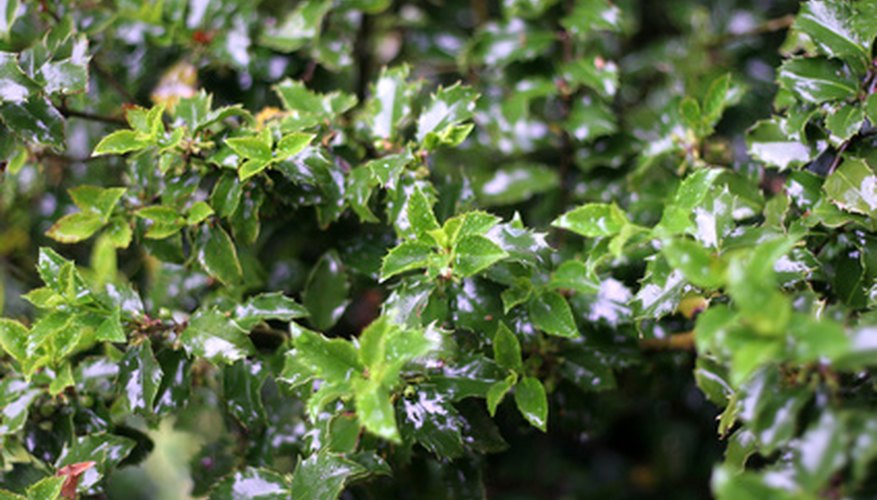 Shrubs and bushes grow more quickly than trees but provide many of the same benefits, including shade, visual interest, vertical texture and shelter for wildlife. Shrubs are used to hide an unsightly foundation, as privacy hedges or as ornamental plantings. Hundreds of varieties exist, ranging in size from small bushes to 15-foot-tall shrubs. Many shrubs produce flowers, fruits or showy fall foliage.
Examine the mature size of the shrub. Shrubs larger than 10 feet tall include viburnum, lilac, service berry, Japanese maple and panacle hydrangea. Medium-sized shrubs, which are between 3 and 10 feet tall, include azaleas, rhododendrons, dogwood, forsythia, hydrangea, sand cherry and rose of Sharon. Small shrubs include euonymus, aspen currant, potentilla, St. John's wort, cranberry cotoneaster and spirea.
Inspect the shrub in winter to determine if it is evergreen. Wide-leaved evergreens have soft, glossy leaves and include boxwood, daphne, euonymus and rhododendron, although some varieties may lose leaves in the winter. Fine-needled evergreens resemble pine trees and include spruce, juniper and hemlock varieties.
Watch for blossoms. Some flowering shrubs, such as forsythia, mock orange, lilac and sand cherry produce flowers only in the spring. Others, including potentilla, rose of Sharon, St. John's wort, spirea, sage, hydrangea and oleander produce flowers all summer.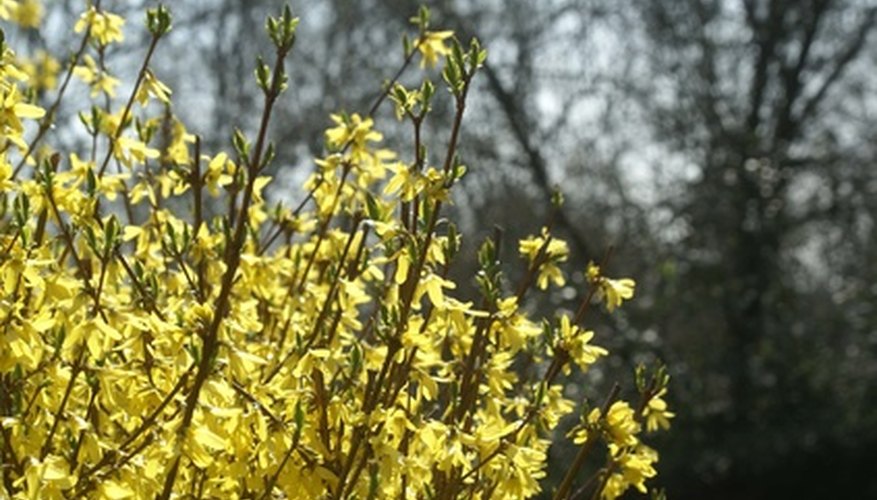 Examine the blossoms. Potentilla, rose of Sharon and St. John's wort produce single flowers. Others, such as lilacs, forsythia, butterfly bush, sage, cotoneaster, weigela and blue mist spirea, produce stalks of small flowers. Hydrangea and snowball viburnum produce large, showy mounds of flowers, while sand cherry and sand plum produce pink flowers that resemble apple or cherry blossoms.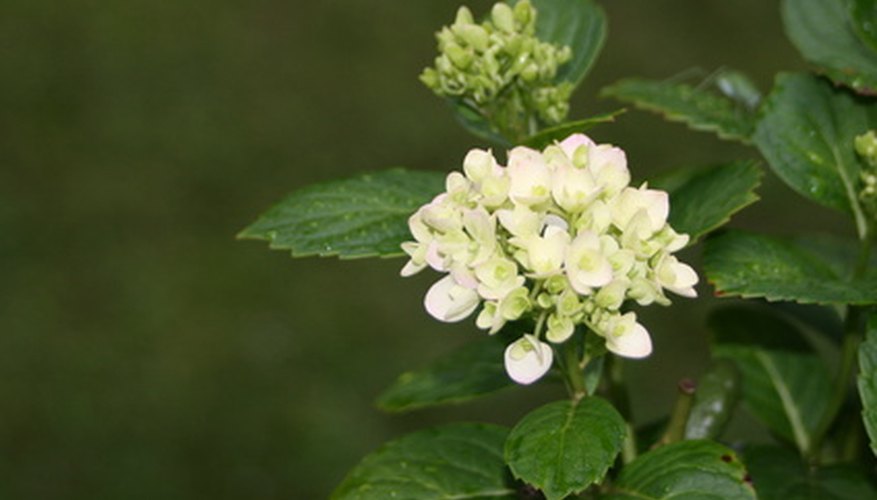 Inspect the shrub's foliage. Holly and Oregon grape holly produce prickly foliage. The leaves of hydrangea, spirea, rose of Sharon and rhododendron are large, glossy green and richly textured. Many shrubs, including alpine currant, potentilla, cotoneaster, barberry, spirea and sage have small, nondescript, oval leaves.
Tips
Consult garden books or local nursery experts to positively identify shrubs and bushes.

Many shrubs and bushes are low-maintenance and grow almost anywhere. Select shrubs suited to your climate.