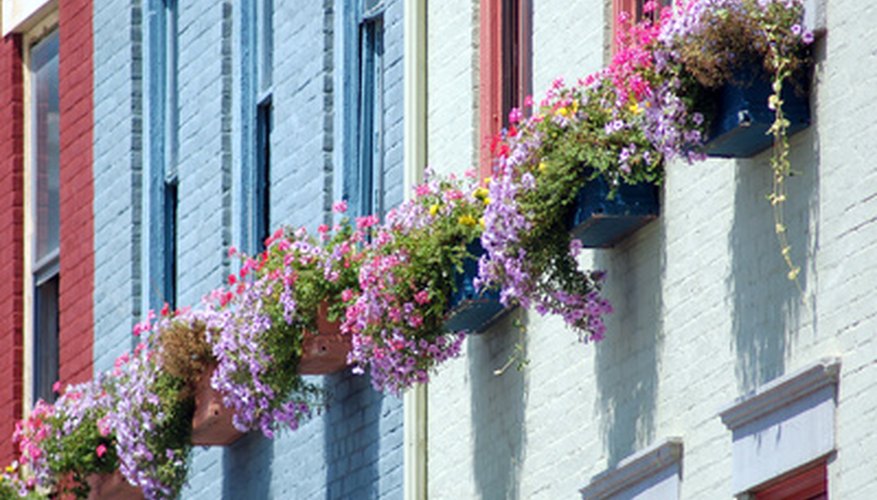 Window boxes are used to add a bit of vibrant color to the exterior of a home. These planters are perfect for holding anything from flowers to a small herb garden. Window boxes can be made of almost any material, including wood, plastic or fiberglass. An easy material to use for a homemade window box is a gutter. Gutters are already in the shape needed and since they are made to hold water, you don't have to worry about them rotting or forming rust.
Measure the width of the window with a measuring tape.
Cut the gutter with sharp tin snips to the same width as the window. If you want the box to be a little wider than the window, add a couple of extra inches.
Apply silicone caulk to the grooves of two gutter end caps. There should be noticeable grooves along the inside of the caps that are in the same shape as the gutter.
Press the end caps onto each end of the gutter. Hold them in place for at least five minutes while the caulk dries.
Drill drainage holes in the bottom of the gutter with an electric drill and a 1/4-inch drill bit. Space each hole 3 to 4 inches apart along the entire length of the gutter.
Prepare 4-inch wood screws that will be used for fastening the gutter to the house. Put a washer on each screw. You need one screw in each corner of the gutter, and then an additional screw every 4 inches.
Hold the gutter below the window in the spot you intend to install it. If possible, have a helper hold it in place for you, as it may be difficult to secure it while you hold it.
Screw one of the wood screws into the top right corner of the gutter so it secures it to the house. Make sure the corner of the gutter is still in your desired spot. If so, fasten the other corner to the house with a screw.
Install any additional screws between the two corners. Remember, the screws only need to be spaced 4 inches apart.
Add planting soil to the gutter until the soil is about 1/2 inch from the rim of the gutter. Moisten the soil before you plant seeds to ensure they get adequate moisture. When planting seeds in the gutters, be sure to follow the recommended planting depth and spacing for your particular seeds.
Things You Will Need
Measuring tape

Tin snips

Caulk

Gutter end caps

Drill

1/4-inch drill bit

4-inch wood screws

Washers
Tip
If your home is made of brick or stone, you must use masonry screws to secure the gutter in place.
References