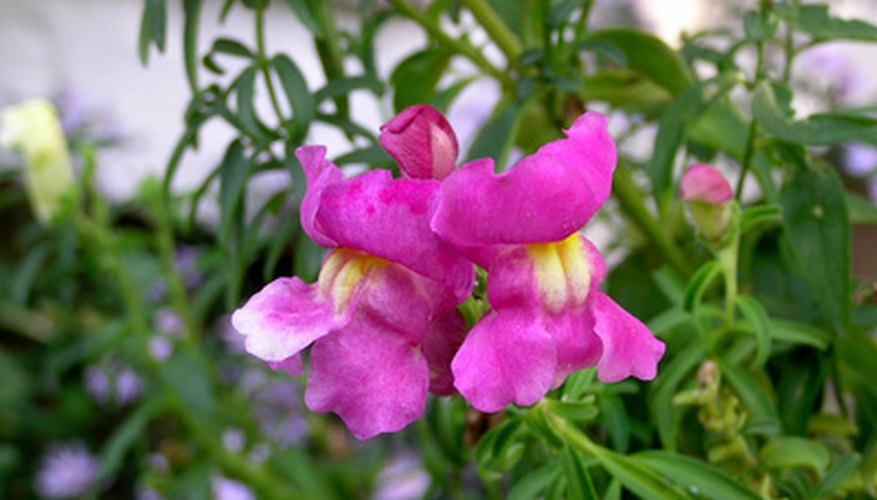 Annual flowers provide short-lived bursts of color, often during the spring and summer. Annual flowers that attract hummingbirds are especially lovely to have in the garden, as the tiny birds provide a extra color and movement throughout the growing season.
Larkspur
The larkspur is an annual member of the buttercup family that hails from the Mediterranean. The upright plant reaches an average height of between 2 and 3 feet, producing deeply saturated, silky flowers in an array of colors, including purple, blue and white. Larkspur is a cool-weather annual that blooms in profusion throughout spring and summer. The slightly tubular flowers of the plant are highly attractive to hummingbirds, which can often be seen buzzing about the plant. Larkspur is quite hardy, and will grow in full sunlight in almost any soil in USDA zones 3 to 11. Water the plant when dry, and keep children and livestock away from its poisonous seeds.
Bedding Zinnia
Bedding zinnia (Zinnia elegans) is a garden hybrid that hails from parent species in Mexico and Central America. The dwarf types are quite small, reaching an average height between 10 to 12 inches. Bedding zinnia is a colorful, summer-blooming plant that can be grown almost anywhere so long as there is plenty of sun. The double-bloomed flowers may be pink, orange, yellow or many other shades in between. Use bedding zinnia in an an annual flowerbed, border or container. Not picky about soil type or moisture, bedding zinnia attracts both hummingbirds and butterflies, while deer tend to avoid grazing on its foliage.
Common Snapdragon
The common snapdragon (Antirrhinum majus) is a short-lived perennial or annual native to North Africa, Spain and parts of the Mediterranean. The plant ranges in size, with tall varieties growing up to 3 feet tall and dwarf varieties reaching 1 foot or less. The common snapdragon boasts rows of soft, fluffy flowers in almost every color except true blue. The flowers are highly attractive to hummingbirds. The flower works well in temperate regions, though it may also be grown in tropical zones. Snapdragons do best in full sunlight in USDA zones 4 to 11, ideally in a well-draining soil that's loaded with organic matter. Water snapdragons frequently, especially when you first plant them.