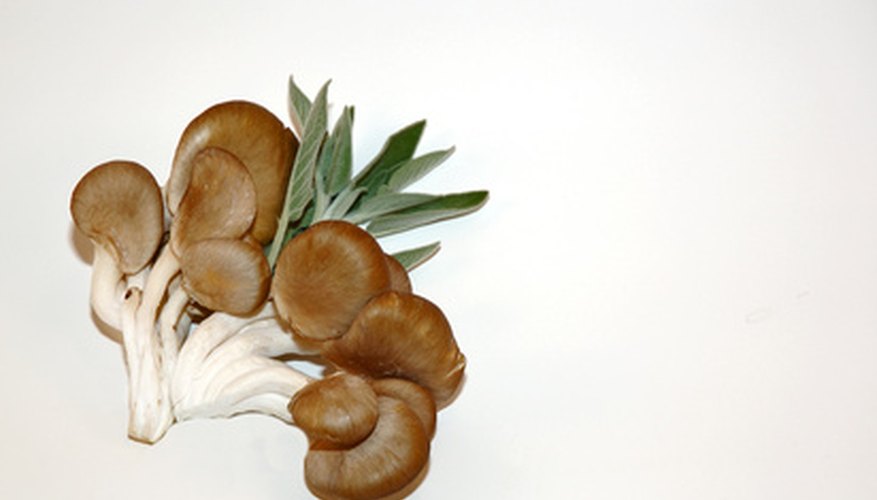 Oyster mushrooms are often used in gourmet cooking. While oyster mushrooms aren't common in grocery stores, they're not difficult to grow, and they produce a harvest in a relatively short time. Oyster mushroom grow kits are available for purchase and usually contain a growing medium (such as sawdust), but it is not necessary to purchase one of these. You can make your own mushroom habitat with a few simple items.
Cut off the top of the waxed boxes box with a knife or scissors. The remaining portion of the boxes should be about 6 to 8 inches tall. Use the knife or scissors to punch holes in each side of each box.
Fill a pot with hot water, leaving enough room to add the sawdust or chopped straw (the growing medium) later. Heat the water to at least 160 degrees F.
Add the sawdust or chopped straw and 1 cup of whole-wheat flour to the water. Keep the water at 160 degrees F for 45 minutes. Doing this will pasteurize the growing medium, ensuring that there are no competing microorganisms that could interfere with the growth of the mushrooms. Repeat as needed until all the growing medium has been pasteurized.
Wait for the growing medium to cool and fill the boxes with it, leaving a few inches at the top for the oyster mushrooms to grow. When it has cooled to room temperature, mix it with the mushroom spores or inoculated material (meaning substance--such as grain--that has spores growing on it). The growing medium should still be damp from pasteurization; if not, wet it again before mixing.
Cover the boxes with plastic wrap. Make sure the plastic wrap does not obscure any of the holes in the sides of the boxes. Punch one or two holes in each section of plastic wrap. This will ensure that the environment is kept moist while maintaining adequate ventilation.
Keep the boxes in a dark room, such as a cellar or closet. Mist the growing medium every few days, keeping it damp so the air in the box remains humid. Keep the boxes around 65 to 75 degrees F. After some time you will begin to see growth of the mycelium, the underground part of the mushroom.
Refrigerate the boxes for 24 hours once the growing medium has been fully colonized with the mycelium. This will encourage the fruiting cycle to begin, and the fruiting bodies (the recognizable part of the mushroom) will appear. Harvest them when the edges of the cap begin to turn down.