wreath of roses for valentine's day image by nextrecord from Fotolia.com
Make funeral wreaths with fresh garden blooms, dried or silk flowers. Fill a wreath form with blossoms for a hand-made sympathy expression. A floral wreath can be hung on the door or an easel at the church or funeral home. Set a framed photo of the deceased in the center of a wreath that is lying on a display table at the funeral home. A simple urn or cremation box can be surrounded with a wreath of beautiful flowers.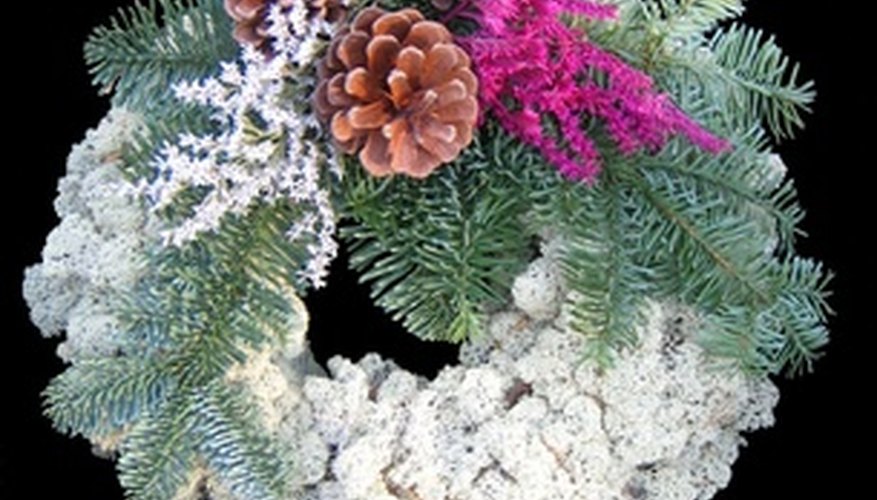 christmas wreath image by Inger Anne Hulbækdal from Fotolia.com
Remove any packaging from the wreath form. Soak a fresh floral form in water for at least 30 minutes to saturate the material.
Set the wreath form on a flat work surface. Cut flowers from the stalk leaving a 1-1/2 to 2 inch stem.
Strip any remaining leaves from the short stems. Insert the stems into the foam starting at the bottom of the outside edge. Insert a round toothpick through the center of smaller stems on flowers such as daisies or chrysanthemum poms. Push the toothpick-stable stem down into the foam. Stagger the heights of the flowers slightly.
Fill in the entire wreath form. Hold the wreath in front of a mirror to check for any gaps in the floral piece.
Write the title of the deceased, such as "Aunt", "Brother" or "Friend," on a piece of wide satin ribbon with the glitter glue pen. Allow the glue to dry thoroughly before handling the ribbon. Attach the ribbon to the wreath with a florist greening pin or corsage pin. Stretch the ribbon across the open center of the wreath and secure it on the opposite side. Add a ribbon bow for another finishing option.
Things You Will Need
Heart or round wreath form

Knife or wire cutters

Carnations, daisies, chrysanthemum poms or statice

Round toothpicks

Satin ribbon

Glitter glue pen
Tips
Silk flowers are appropriate for a funeral wreath that will be displayed at the grave site for several weeks.

Hydrangea blooms or peony blossoms are good base flowers for a large impressive wreath.
Resources