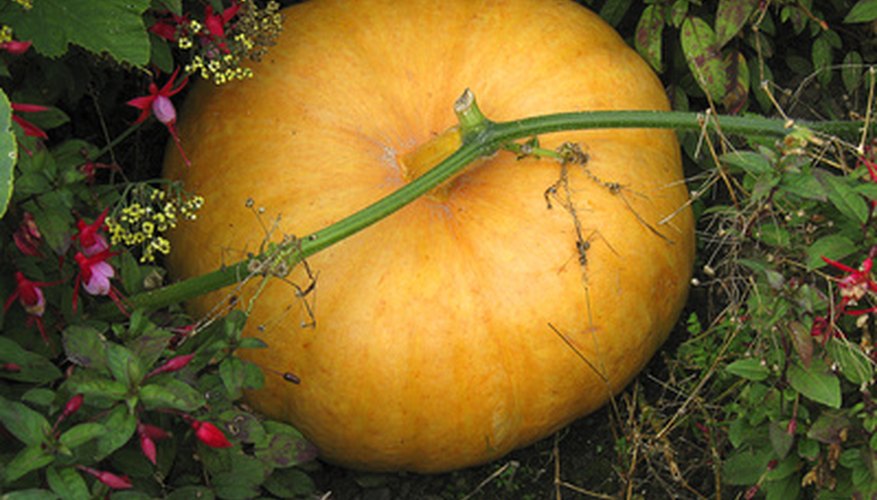 When autumn is gearing up, that means it's time to get ready for chrysanthemums, gourds, leaves and pumpkins. Lots of pumpkins. Pumpkins take quite a while to mature when planted from seed. If you didn't get yours in the ground early enough, take advantage of making pumpkins out of wood. Take them in when autumn is finished. Store them where it's dry and use them year after year.
Tree Logs
Round log sections become cheery pumpkins when 6- to 15-inch lengths are cut and painted orange. The longer lengths require thicker logs to stay in proportion. Attach a branch to the top of the log to become a stem. Twirl green chenille stems around a pencil to make tendrils. The log pumpkins decorate a front porch to welcome autumn. Draw a jack-o-lantern with black markers on one side of the pumpkin log. Turn the face to the front for Halloween and to the back for Thanksgiving.
Log Slices
Saw off 3-inch slices of logs that are from 4 to 12 inches in diameter. Paint the slices orange or soak them in an orange-tinted glaze for a subtler color. Paint curved lines on the slices to resemble the ridges of the pumpkin. Cut a dip in the slice to mimic a pumpkin shape. Attach a branch to the back of the pumpkin slice. The top of the branch becomes the stem of the pumpkin. Sharpen the branch to a point. The pointed end becomes a stake to insert the pumpkins into containers or in the ground.
Parade of Pumpkins
Assemble a happy parade of pumpkins to decorate your front door, back gate or the top of a fence. Use a piece of scrap wood that's about 3 feet long and 1 foot high. It doesn't matter how thick it is as long as it doesn't bend easily or is too heavy. Drill holes in the top upper corners for a hanging wire. Cut out slices of log in varying sizes for the pumpkin faces. Rub an orange glaze on the wood and draw in the ridges of the pumpkin. Use wood glue and nails to attach the wood slices to the scrap wood.
Sticks and Can
Saw off branches to one inch taller than a coffee can. Hot glue sticks to the empty coffee can. One-pound coffee cans make small pumpkins. Three pound cans make larger pumpkins. Spray paint the sticks bright orange to use as a jack-o-lantern. Rub a lighter orange glaze for autumn pumpkins. Fill the can with dried seasonal flowers and leaves.