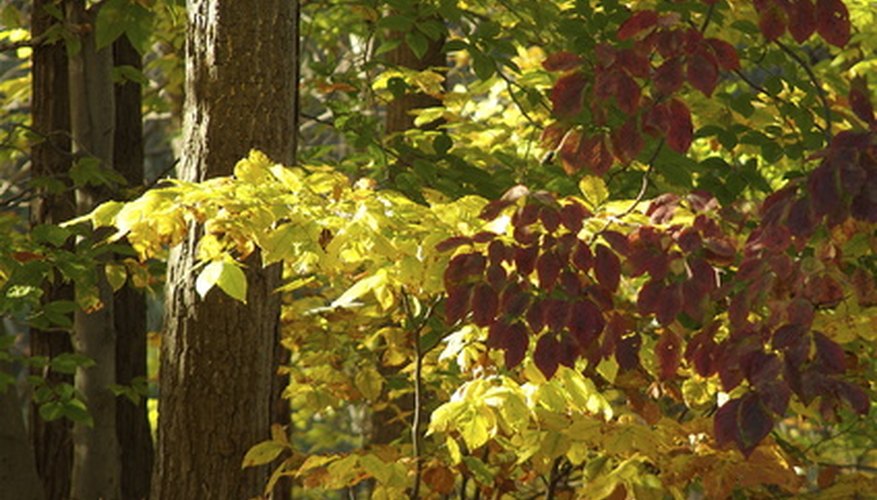 Insects eat leaves, cause fungus to form and can wreak serious damage on a tree if left untreated. Pesticides are available to kill most insects, but they are difficult to work with and can be dangerous to your health if not cautiously used. You can also purchase an insecticidal soap to remove insects from your trees, but by making your own, especially for a large tree, you can save some money. Test your homemade solution on a small area of your tree, and check in three or four days to be sure the leaves do not burn before proceeding to apply the solution to the entire tree.
Mix 3 tablespoons of dishwashing liquid soap for every gallon of water to make an all-purpose insect spray. If this does not kill the insects, mix 5 tablespoons dishwashing liquid soap and 5 tablespoons of vegetable oil for every one gallon of water.
Put homemade insect spray in a spray bottle if your tree is small and you can successfully spray the leaves. If your tree is large, put the mixture in a pressurized sprayer, such as one used to clean siding or wood.
Spray the tops and undersides of all the leaves with the solution. If using a pressurized sprayer, set on the lowest setting possible to reach the top of the tree without damaging the leaves.
Spray the leaves with a hose in three to four hours to rinse off the homemade insect spray. If you notice more insects, reapply the insect spray every three or four days until they are gone.