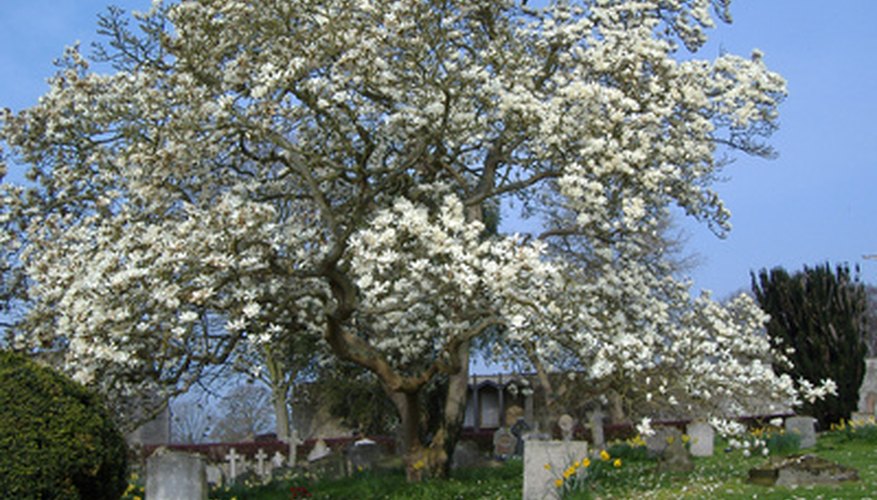 Bergerac is a city with a population of 30,000 in the western region of Dordogne in Southwestern France. Because France has a relatively mild climate, many different species of plants exist or have been introduced. Flowering trees are commonly seen in spring in the Bergerac area and although many indigenous species no longer exist here, many other flowering trees have been introduced.
Magnolia
Magnolia grandiflora has been used as an attractive landscape and shade tree in the Bergerac region for many years. It's an evergreen tree that grows as tall as 90 feet. The leaves are large and shiny-leathery in appearance. Flowers of this tree are large, nearly 8 inches in diameter, white and highly fragrant. They bloom continuously from April through June, according to DiscoverLife.org.
Forsythia
Several varieties of the shrub forsythia grow large enough to be considered small trees. The type called lynwood grows to 10 feet and sports brilliant yellow flowers in April. Forsythias are often seen in Southwestern France as landscape plants in the yards of private homes, parks and other areas.
Cherry
The Japanese flowering cherry, called yoshino, has been introduced to many parts of France for its showy, fragrant whitish-pink flowers, which bloom in early spring. It thrives in Southwestern France and is often seen in and around Bergerac. It grows to 50 feet tall and has a rounded shape. Cherry festivals in cities such as Washington, D.C., feature this blooming tree.
Japanese Maple
The Japanese maple is a flowering tree introduced to Southwestern France and the Bergerac region and has taken well to the climatic conditions. The botanical name of this tree is Acer palmatum autropurpeum. It grows to 30 feet tall. Its leaves are deeply lobed and red, which makes this tree desirable as an attractive landscape plant during its nondormant months of the year when it has leaves. When it blooms in spring, the flowers are purple and can reach 1 inch in length.
Resources