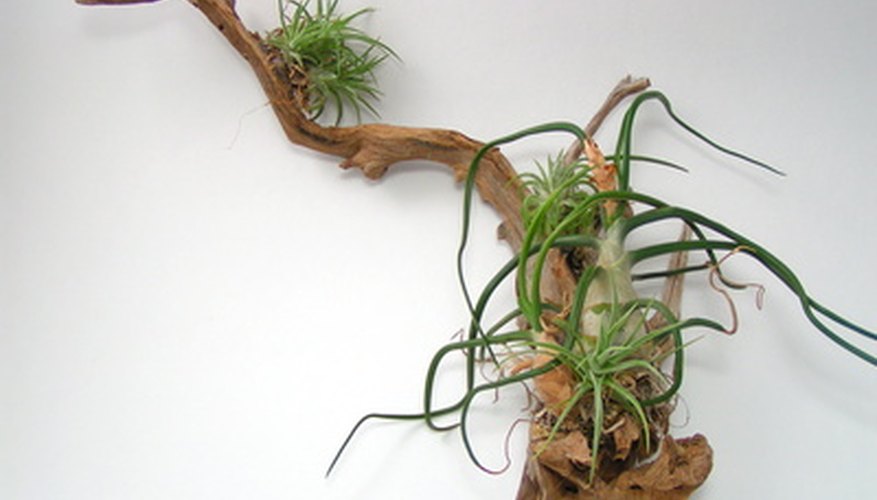 Smoothed and shaped by the wind and sea, the twisted, often graceful form of driftwood is both eye-catching and earthy. Individual pieces of driftwood can range from long, low horizontal branches to sturdy, upright chunks of wood. Driftwood lends itself well for use as a centerpiece, whether in a beach-themed home, a rustic, country home or a home that is modern, green and simple. Many pieces of driftwood have uniquely shaped protrusions, cavities or even holes in them, worn out by the endless motion of the waves. Use these distinctive features to make your driftwood centerpiece stunningly original.
Clean the driftwood. While a little sand may be decorative, it might also smell fishy. Rinse the driftwood off thoroughly, and let it drip-dry. You may have to air it out for a few days if the saltwater smell is strong.
Attach decorative items. Use a hot glue gun to nestle shells or silk flowers into the nooks and crannies of the driftwood. Or, if you want to use real flowers, insert a piece of wet floral foam into the depressions in the driftwood, and then insert the short stems of flowers into the foam. If the piece is upright, try hanging small votive candles from protrusions for an interesting, illuminated centerpiece.
Place the driftwood on the table. You can frame it by laying it on a tray filled with sand or pebbles. Or, create a bed of berry-covered branches for the driftwood, and lay it horizontally on the branches. This is a good choice for a dinner table, as it will allow guests to see and talk to each other over the low height of the driftwood.