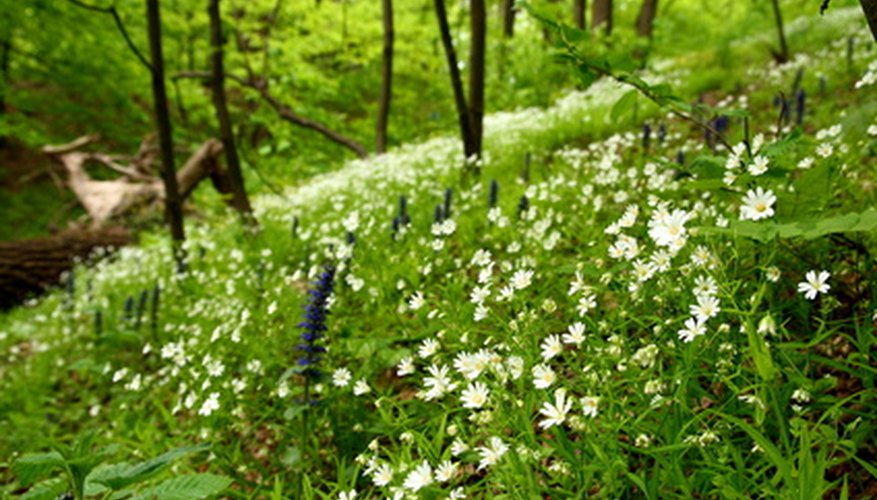 The first spring flowers in the forest. image by petrovit from Fotolia.com
A flowerbed adds beauty to your landscape. It is an area that is devote specifically to growing flowers. Flowerbeds require some strategic planning in order to make the best use of the space that you have. You can add color to nearly any location in your yard, including a slope or bank. Flowers that are planted on a slope can help fight erosion. These types of flowers should be hardy plants that have deep root systems and require little maintenance.
Choose the types of flowers that you would like to plant. Perennials and ground cover plants are the best choices for planting on a slope. Good choices include rhododendrons, azaleas, daffodils, tulips, daisies, hen and chicks, baby's breath, periwinkle and veronica.
Use a hoe to loosen the top 12 inches of soil. Remove all sticks, stones and other debris.
Add 2 to 3 inches of organic compost into the soil. Use a spade to mix the nutrients into the soil. This will help give the flowers the nutrients they need to establish themselves.
Plant the larger shrubs, like the rhododendrons and azaleas, first. Shrubs will provide the largest protection against erosion. Stagger them throughout the bed but close to the back.
Dig holes along the bank for your other flower choices, Stagger the holes over the bank in random patterns. Plant the flowers closer together to help control weeds. Space the ground cover plants at least a foot apart to give them enough room to spread.
Add 2 to 3 inches of mulch at the base of each plant to help hold in moisture and to help prevent weeds.
Water your new flower bed with an inch of water. Use a fine mist on your hose or sprinkler to prevent the water from washing the new plants away until they have established themselves in the soil. Water the plants daily with an inch of water.
Place large rocks along the bank to help provide protection against rain. The rocks can be placed in front of the rocks for stability.
Things You Will Need
Rocks

Hose

Sprinkler

Mulch

Hoe

Spade

Organic compost

Plants

Shovel