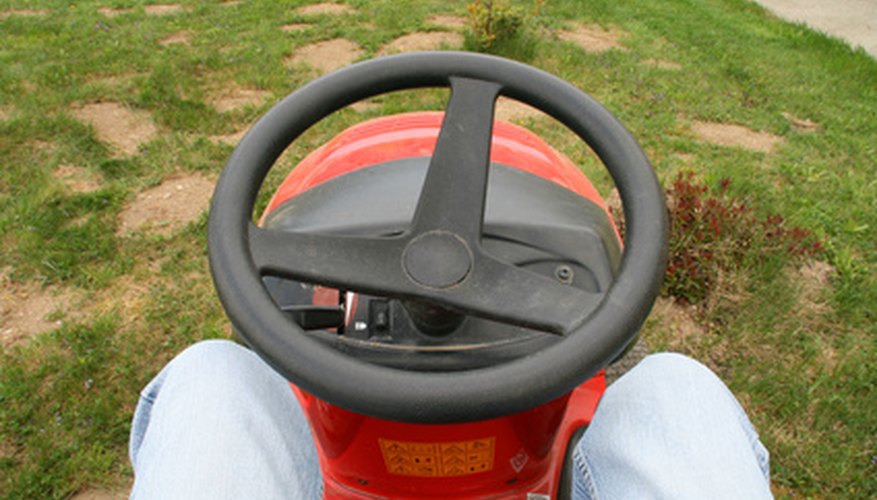 There are only a few moving parts on the Toro riding mower that require lubrication. Those that do need grease are critical to the overall operation of the lawn mower. Grease helps to prevent corrosion by serving as a barrier against water intrusion. The recommended lubricant for Toro riding mowers is lithium-based, extreme-pressure (EP) number 2 grease. Lithium is soap-like thickener that helps resist moisture accumulation. The extreme-pressure properties of the grease make it resistant to being squeezed out. The grade designation refers to the grease's consistency; EP-2 grease is semi-soft and buttery.
Grease the front axles and wheels of the Toro riding mower. A grease fitting is located on each of the two front wheels, just inside the tire. Each axle has a forward-facing grease fitting.
Insert the grease gun and apply two to three pumps of grease to each fitting. The front axles and wheels should be greased after every 25 hours of use. You may have to grease more frequently if you are operating the mower in an extremely wet or dirty environment.
Locate the grease fitting on each mower blade spindle. The fittings attach to the spindles just above each mower blade.
Clean the area around the spindle to remove any dirt and grass clippings. Wipe the grease fittings off with a clean rag coated with a light oil.
Insert the grease gun into each fitting and apply two to three pumps of grease to each one. These fittings should also be serviced after 25 hours of mower use.
Examine the belt idler on top of the mower deck. If there's a grease fitting, wipe it off with a clean, oiled rag before greasing the fitting. Apply two to three pumps of grease to the fitting.
Things You Will Need
Grease gun

EP-2 lithium grease

Light oil
Warning
Remove the key and set the parking brake before servicing the mower to avoid accidental starting.
References