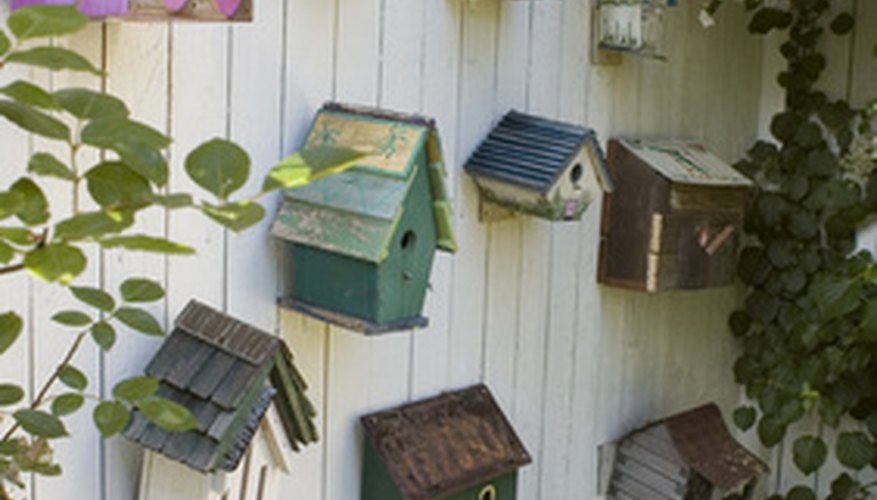 Scrap wood, leftover landscaping timbers and found wood are free materials you can use to make wood projects for the garden. Other ways to acquire free wood for your garden projects are to save fallen tree limbs and grape vine cuttings. When the wood is pliable, you can use it to make a variety of outdoor wood projects.
Bird Houses and Bird Feeders
Build bird houses and bird feeders using scrap wood left over from another home improvement project. It's best to use treated wood for outdoor projects, but exterior paint and sealers will help protect untreated wood. Both projects only require a minimum amount of wood. Bird feeders are especially simple to make. To build a bird feeder, attach two slabs of wood together at the edges to make a 90 degree angle. One slab is the back support and one is the bottom of the feeder tray. Make the back support longer than the feeder tray. Attach 2-inch-wide wood trim pieces around the three open sides of the feeder tray to hold the birdseed in place. Nail the back support to a tree in your garden.
Grapevine Projects
Grapevines are readily available from harvest to the first frost from anyone who cultivates the fruit. Freshly cut vines or soaking wet dried vines may be shaped into wood garden projects such as arbors, trees and furniture. Wrap a pliable grapevine around a wire, tree-shaped tomato stake to create a decorative garden tree. Cover the wooden tree with twinkle lights to add design interest. Use fallen tree branches or thin trees as the side supports for a natural garden arbor. Fit the grapevines over the top, between the side supports. Twine, nails and waterproof adhesive are a few of the ways you can secure the elements of your projects together. A grapevine also weaves together easily to create thicker, sturdier projects.
Backless Garden Bench
Assemble a backless garden bench using leftover landscaping timbers, railroad ties or wooden planks from construction debris piles. Create the bench seat by cutting equal lengths of wood and joining them together using perpendicular metal braces or wood strips. Bolt the bench seat between two large rocks or make wooden side supports with the same type of wood.
Garden Swing
A country garden swing is another project you can make with a small amount of leftover wood. Make the swing seat from a wooden plank or landscape timbers joined together to the desired length and width. Hang the wooden swing seat from a tree limb in the garden using rope or chain.
References