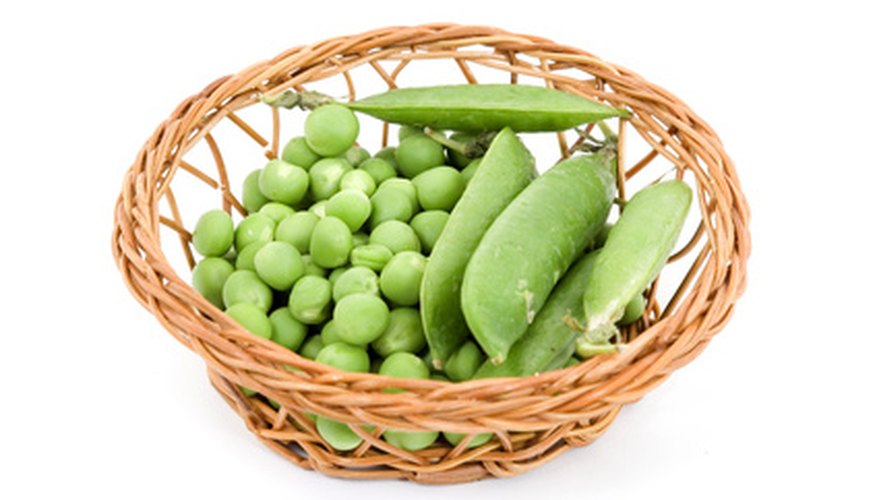 Peas of all varieties are cool-weather vegetables that grow on bushes and vines. Most pea varieties germinate within 14 days of planting and mature within 60 to 70 days. Whether you choose heirloom or hybrid varieties, peas require some essential ingredients for successful growth, including full sunlight, well-draining, nutrient rich soil, and some form of support. Staking pea plants allows the vines to spread, increasing productivity, while keeping the foliage away from the soil where it would be vulnerable to insect and disease attacks.
Basic Pea Plant Support
Collect branches from trees with stronger wood, such as oak or birch. You'll need one branch for every two plants. The Ohio State University Department of Horticulture and Crop Science recommends selecting branches 6 inches shorter than the mature height of the pea plant.
Clear foliage and buds off branches, using your hands or a sharp knife.
Insert branches into the soil once the pea plants reach 6 inches in height. Place branches at least 2 inches away from the pea plants, with one branch situated between each pair of pea plants.
Stake Supports
Plant peas in groups of two rows, leaving at least 12 to 24 inches of space between each group.
Insert one stake in each corner of the two-row group, using a mallet to pound the stake into the soil.
Secure one end of garden mesh to one stake, using plastic zip ties or twine. Insert the tie through the mesh grid and around the stake and tie firmly.
Unroll the mesh around to each of the remaining stakes, pulling it taut to provide the most support. Use ties to secure the mesh to the stakes at each corner.