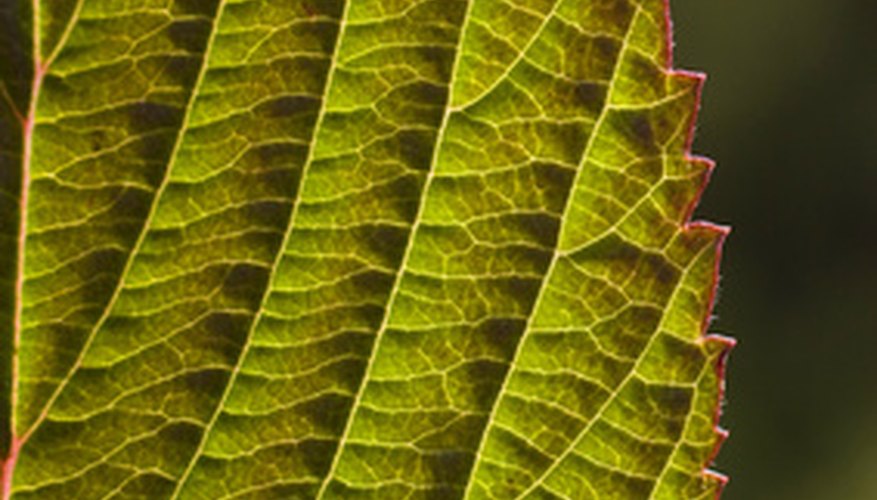 viburnum leaf backlit image by cullenphotos from Fotolia.com
Viburnums are known to be sturdy, reliable shrubs. The doublefile group (Viburnum plicatum tomentosum) adds noticeable spring flower displays. Most varieties develop red-to-black berries in the fall. The berries are loved by birds, making these shrubs a good choice for the wildlife garden. The leaves are deciduous, so the plant lacks winter interest, but makes up for it by providing a colorful fall foliage display.
Snowball Type Flowers
Doublefile viburnums have two flower types. There is a full, round flower cluster called a snowball. This explains the common name the Japanese snowball shrub. One of the showiest examples is Viburnum plicatum tomentosum 'Kern's Pink,' which has pink flowers and pink-edged leaves. This gives the shrub an antique appearance. It will reach 6 feet in height and slightly wider if left unpruned. Should the limbs be pruned back, there will still be flowers. Doublefile viburnums develop flowers along the branches rather than at the branch tips. For white snowball flowers try 'Popcorn.' This one is a bit taller at 8 feet. These shrubs are hardy to U.S. Department of Agriculture zone 5.
Lacecap Type Flowers
The largest group of doublefile viburnums are the lacecaps. These flower clusters have both sterile and fertile flowers. The sterile flowers are more open and are arranged on the outside of the cluster. The most prominent example is Viburnum plicatum 'Fireworks.' The inner buds are red early on, with the outer petals white. The flower stems also have red coloration. This variety averages 6 feet in height and width. The most well-known lacecap is 'Shasta,' with abundant white flowers and grows to 7 feet tall. A smaller 6 foot, but otherwise similar variety, is 'Shoshoni.' The flowers first appear in spring, and continue until fall. Due to the energy this takes, summer snowflake may not produce many berries, or develop as vivid an autumn display. Larger lacecap varieties produce long branches that spread out horizontally. The flowers are borne all along the limbs. They are all hardy to USDA zone 5.
Dwarf Doublefile Viburnums
Viburnums are fast growers and can get very large. For smaller situations, there are two dwarf doublefile viburnums. Both are developed by the same breeder David Leach. Viburnum plicatum tomentosum 'Leach's Compacta' is a 4-foot variety with white snowball flowers and deep green foliage. It develops deep burgundy leaves in the fall. The other dwarf is Viburnum plicatum tomentosum nanum 'Newport.' This one may also be labeled 'Newzam.' The main difference is size. Newport matures at 3 feet tall and wide. This is small for any viburnum. Both have tight, rounded habits, also a departure from the typical doublefile viburnum. These shrubs are hardy to USDA zone 5.