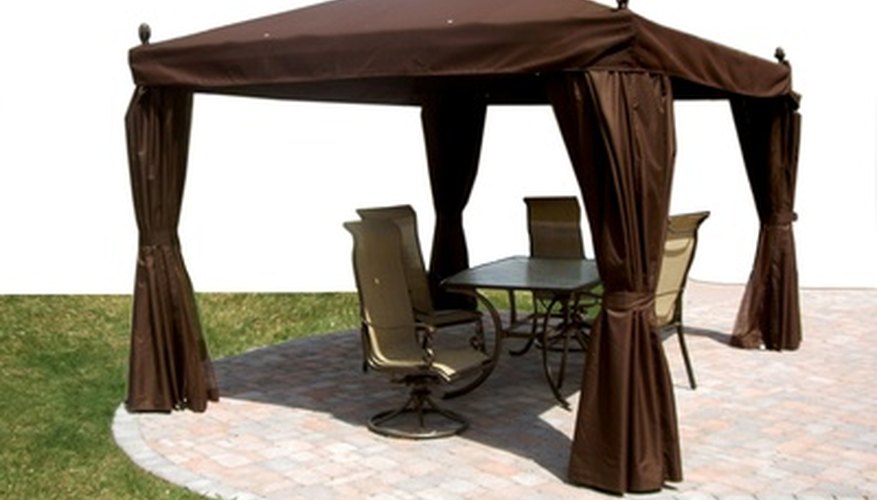 While setting paving stones in the ground is relatively painless, you'll need to prep the area with gravel and sand to keep your stones stable and weed-free. Whether you want to make a path or a patio, when it's time to put down paving stones take your time to be sure you get the layout you want for the space you have available. Once your paving stones are in the ground you can walk on them immediately and enjoy your handiwork.
Measure the area you want to add paving stones to and mark off the area by sprinkling a line of flour on the ground as an outline to your walkway or patio. Use a pickax to dig up the outline.
Remove the sod layer between your dug outline with the pickax, a garden hoe, or a flat head shovel. Dig the area with your shovel to make it 5 inches deep throughout.
Spread out landscaping fabric over the exposed dirt on the side walls and floor of the area. Overlap different sheets of landscaping fabric by 4 to 6 inches when needed.
Fill the walkway or patio area with 2 inches of gravel, covering the landscaping fabric without letting the gravel run under the fabric at the overlaps.
Pour in builder's sand 1 inch deep over the gravel. Run your shovel or hoe over the sand to smooth it out and make it as flat and level as possible.
Lay your pavers down over the sand starting at one end of the patio or path and working toward the other end. Tap the pavers with a rubber mallet to nestle them into the sand and adjacent pavers.
Spread an inch of sand over the completed pathway or patio. Sweep the sand into the cracks between pavers to fill in the gaps. Spray a light mist of water over the pavers to settle the sand. Repeat this step weekly for the first month to keep the stones from becoming wobbly.
Things You Will Need
Tape measure

Flour

Pickax

Hoe

Shovel

Gravel

Landscaping fabric

Builder's sand

Rubber mallet

Broom

Water
Tip
Plan the layout of your paving stones ahead of time if they are decorative stones or come in various shapes. Once you dig the area you'll need to follow that exact layout to be sure your paving stones fit in the space prepared.