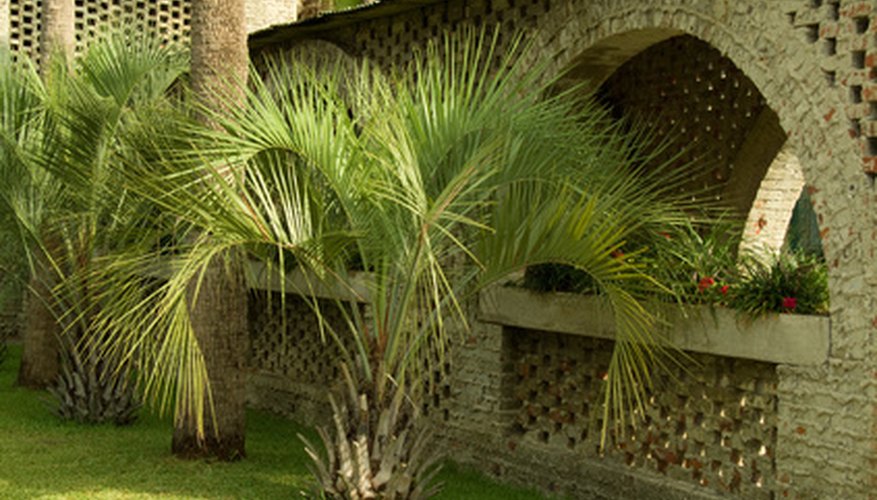 small palmetto trees and arched walkway image by Jorge Moro from Fotolia.com
Removing a Robellini palm tree from your property is a fairly straightforward business. Robellini palms remain relatively small, so even at maturity so they can be removed with a simple hand saw. The most important consideration to make when you remove your Robellini palm is safety. Make sure to alert all household members to the time and date you will be cutting down the palm.
Determine the direction that you would like your Robellini palm to fall. Choose a direction that is free of any obstructions like gardens or tool sheds. If the palm tree leans in any one direction, it is best for it to fall in that direction, if possible.
Undercut the tree. Use a handsaw to remove a wedge of the tree on the side of the trunk that is in the direction you want it to fall. Start at a point on the trunk that is roughly 1 foot above the ground. Saw downward through the trunk, at roughly a 45 degree to the ground. Stop an inch or so before the center of the trunk. Move the saw to a second point, 4 or so inches below the first. This time, saw upward through the trunk at a 45-degree angle to the ground so that you meet the endpoint of your first cut at a 90-degree angle. Stand to the side of the tree and push the wedge out of the tree if it has not fallen out already.
Make a back cut on the opposite side of the tree. Start the back cut 2 inches higher than the hinge of the wedge you removed in Step 2. Simply saw into the tree until the end of the cut is just above the hinge of the wedge. Be alert: the tree may fall as you are cutting.
Push the tree down if it has not already fallen. Push towards the direction of the undercut with both hands until the tree falls.
Remove the stump. Use a shovel to dig a trench around the roots of the palm tree until they are exposed to their depth (digging is easier if the ground is moist). Then pull and push on the palm's stump until the roots have been loosened and the palm stump can be pulled out of the ground.
Warning
Never remove a tree that is growing amongst utility or power lines. Contact the city or utility company and they will arrange to have the tree removed.
References