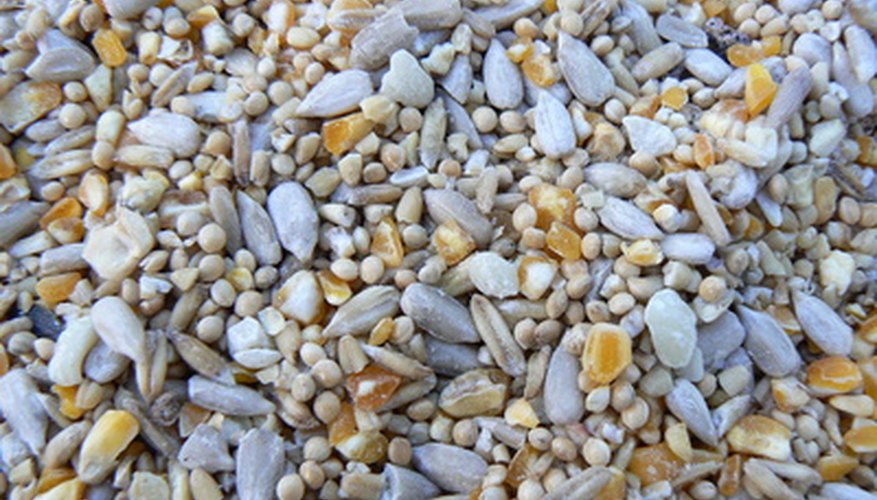 According to the University of Florida, pet birds will thrive from a diet of B vitamins. Although many birds get these vitamins from the germ located in a kernel of bird seed, another rich source of the vitamins is the sprout of bird seed. You can grow young bird seed sprouts for feeding to your birds by germinating the seed on cotton wool. Although cotton wool is typically referred to as combed raw cotton fibers, you can also use cotton batting made with natural cotton fibers as your substrate.
Place cotton wool into a plastic potting tray.
Place the potting tray onto a seed germinating mat. Set the mat to 50 degrees F. Sunflower seeds will germinate well if the temperature is between 42 degrees and 50 degrees. If you are germinating seeds indoors instead of in an unheated greenhouse, you will not need a warming mat.
Pour water into the container until the cotton wool is saturated to the consistency of a wrung-out sponge.
Spread bird seed in a thin layer over the cotton wool. Place the cotton wool tray under a grow light or in a south-facing window.
Check the cotton wool daily and water anytime the wool seems to dry out.
Remove seeds when the hulls seem to loosen and green sprouts appear. Place the germinated and sprouted seed out in tray or bowl-shaped bird feeders for birds to find.
Plant germinated seeds in the ground to a depth that is twice as deep as the seed at its widest point. The seeds will grow out of the ground and form plants that will attract birds to the feeder.
Things You Will Need
Plastic potting tray

Cotton wool

Distilled water

Seed warming mat

Bird seed
Resources