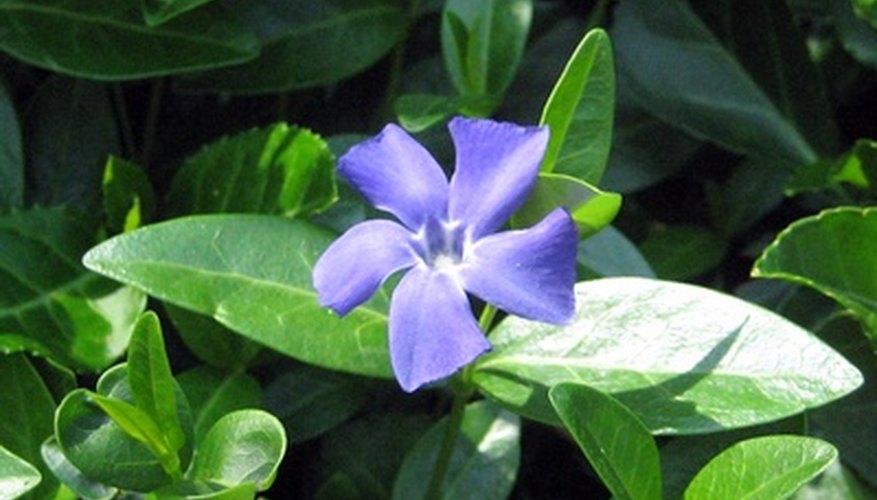 The La Grave cultivar of Vinca minor is an evergreen, spreading groundcover that produces an abundance of lavender flowers in the spring and summer. La Grave, a common periwinkle variety, prefers cool, shaded areas and has a tendency to clump. La Grave shares many characteristics with other popular groundcovers that can be used in place of or as a complementary pairing with this Vinca minor cultivar.
Ralph Shugert
Another Vinca minor variety, Ralph Shugert, bears the most resemblance to La Grave. This perennial is a slow-growing groundcover with glossy, green leaves. The flowers are purple or blue with a white border and bloom in late spring. Ralph Shugert prefers mostly-shaded areas with well-drained soil. You can plant this Vinca minor in sun if you keep the plant moist. Ralph Shugert grows to a height of 6 inches and spreads from the top rather than from the stems.
Vinca Major
Also called the big leaf periwinkle, Vinca major is an evergreen, trailing groundcover with similar characteristics to the Vinca minor varieties. A perennial with blue flowers that bloom in the spring, Vinca major can grow to 18 inches tall and has larger leaves than Vinca minor. This periwinkle grows rapidly and has a tendency to take over the area where it's planted. To prevent spread into other garden areas, Vinca major should be cut back in the spring.
Carpet Bugleweed
Like La Grave, carpet bugleweed is a spreading groundcover that produces blue flowers in spring and summer. Also known as Ajuga reptans, carpet bugleweed is well suited for partly-shaded areas under trees or in rock gardens. The tubular flowers attract bees, and the leaves of the bugleweed are usually green, although some varieties have multicolored foliage. Burgundy Glow is a bugleweed variety with white, green and pink-hued leaves. Silver Beauty features grayish leaves with a white border.
Serbian Bellflowers
This perennial groundcover produces abundant lavender, star-shaped flowers continuously from spring through fall. Serbian bellflowers are a fast-spreading plant that can handle full sun to partly-shaded areas. A semi-evergreen plant, Serbian bellflowers remain green in milder winters and require little maintenance. Bellflowers should be occasionally cut back to maintain a neat appearance. Serbian bellflowers work well in a rock garden or as an edging in a flower bed, and pair nicely with hostas and carpet bugleweed.
Resources