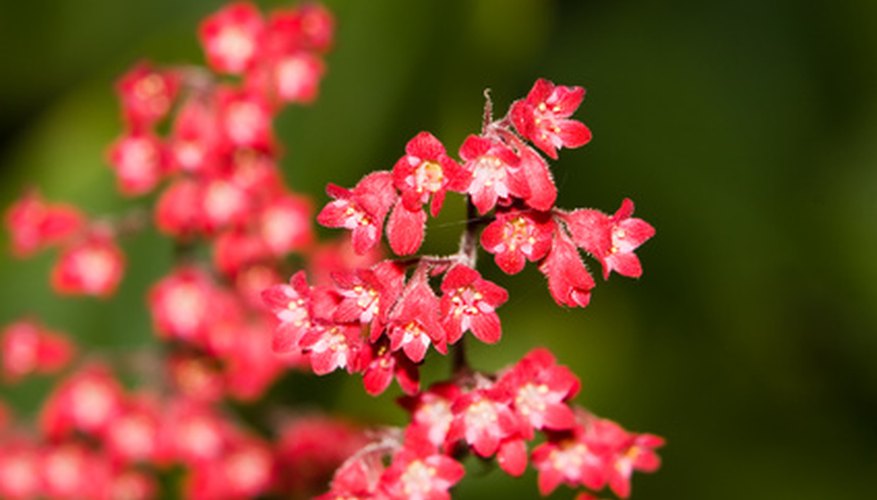 There are two main types of flowers: annual and perennial. Annual flowers grow for one season only, and perennial flowering plants live for more than two years. Perennial flowers provide several seasons of beauty and come in a large variety of colors, sizes and shapes to fit all kinds of landscapes.
Significance
Adding perennial flowering plants to your landscape allows you to keep the same design for a number of seasons. Using perennials saves you money for the cost of plants you need, since you only pay for them once, unlike annuals, which you must buy and plant each year. You can grow flowering perennials that blossom at various times, grow to numerous heights and come in all colors. Perennials work well mixed in with other types of landscaping plants.
Design
Create a drawing of your landscape to use for designing your perennial flower garden, since these plants will be around for many seasons to come. Pick the areas of your property you want to use for growing perennial flowers, and make note of the type of sun received throughout the day and whether the soil is wet or dry. Decide if you want to use any other types of plants in the design, such as annuals, bulbs or shrubs, and mark them on the drawing.
Selection
Choose perennial flowering plants suited for the location of the planting bed and your location in the United States. Select perennials requiring full sun for sunny areas of your yard and shade-tolerant varieties for shady locations. Plant perennials in sites providing the correct soil type, such as wet/moist or hot/dry. Grow perennial plants designated for your specific USDA hardiness zone. All of this information is provided on the plants markers or seed packets.
Preparation
Prepare the planting beds for perennials to create an enriched growing environment. Because perennial flowers exist in the same location for several seasons, it is vital to add nutrients to the soil to ensure the plants get all that they need. Clear the planting area of all foliage, add at least 3 inches of organic matter and apply fertilizer as directed. Work the soil to a depth of 12 inches with hand tools or a mechanized tiller.
Care
Caring for perennials includes providing an inch of water to the plants weekly during the entire growing season, unless rainfall does. Apply a standard fertilizer to your perennial plants as directed each spring and reapply as needed. Use a slow-release fertilizer to last several months. Keep the area around the flowers free of weeds by hand-pulling weeds or using mulch to prevent them. Mulch will retain moisture in the soil longer. Divide perennials every few seasons to encourage growth.