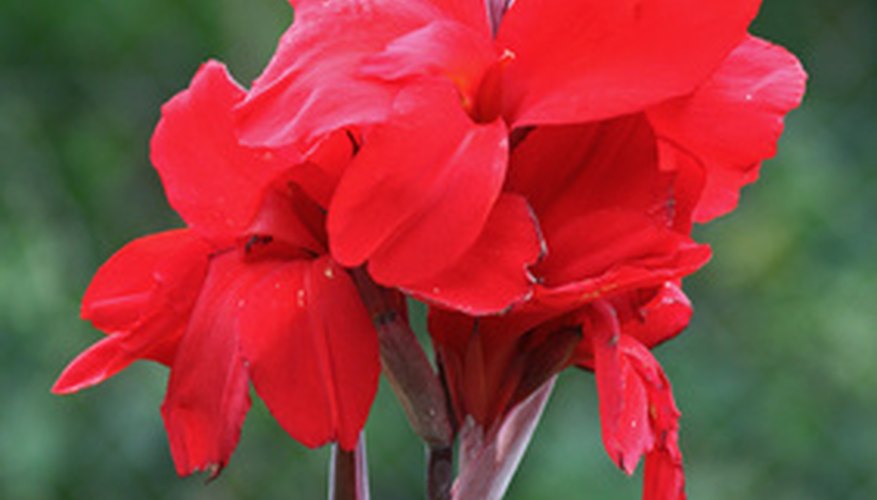 Whether dwarf or standard-sized, cannas are dramatic garden performers. Thriving in moist, fertile soils and full sun, cannas love hot weather. In cold climates, after their brilliant flower clusters brighten gardens from midsummer to frost, lifted canna rhizomes will overwinter in a cool dry indoor location for replanting the following spring. In tropical regions, plants bloom continuously. Red canna varieties may be the most striking of all.
Canna 'Australia'
At 4- to 5-feet tall and up to 2 feet wide, 'Australia' will dominate surrounding garden plants. Its dark purple--bordering on black--leaves form an exceptional backdrop to erect, nearly black stems of bright red flower clusters that bloom from July on. The flowers will bring humming birds to the garden. Australia's 10- to 20-inch, paddle-like leaves make a prominent garden feature even when the plants aren't in flower. For an even more stunning effect, plant Australia where the sun will backlight its foliage, advises the Missouri Botanical Garden.
Canna 'Firebird'
'Firebird,' standing 5 feet high and up to 3 feet wide, combines erect, tapering green leaves with deep red bud clusters that open into bright red flowers. Cutting Firebird's spent flowers to prevent them from setting seed results in a succession of blooms until frost, according to the Learn2Grow website.
Canna 'Black Knight"
Grayish-green foliage with a rich burgundy cast and velvety crimson blooms make Canna 'Black Knight' a summer garden showstopper. From 4- to 6-feet high with an up to 3-foot spread, 'Black Knight' has upright flower stems that draw attention to the back of the garden border. This canna is a hummingbird favorite, notes Learn2Grow.
Canna "North Star Landscape Red'
A semi-dwarf plant, canna 'North Star Landscape Red' grows quickly to its full 3- to-4-foot height and 2- to 3-foot spread. The waxy covering of its leaves, like that on all cannas, repels water. In doing so, it serves as a primary defense against diseases in humid or high-rainfall environments. Landscape Red's green foliage develops hints of burgundy in summer, states Learn2Grow. Its bright red blooms and compact dimensions are attractive in the middle of borders or in containers.
Canna 'Tropical Red'
A true dwarf plant, canna 'Tropical Red" is an ideal choice for small landscapes. It's also an eye-catching container plant for sunny patios. Growing only 20- to 28-inches high and 18- to-24 inches wide, Tropical Red has coarsely textured, green leaves and erect stems with scarlet red blooms. Gardeners with greenhouses--or proper indoor growing conditions--can overwinter these plants in their containers. As tender perennials, cannas have no dormant period. They will continue to bloom indoors all winter long, advise R. J. Black, associate professor, and B. Tjia, former floriculture specialist of the University of Florida IFAS Extension.