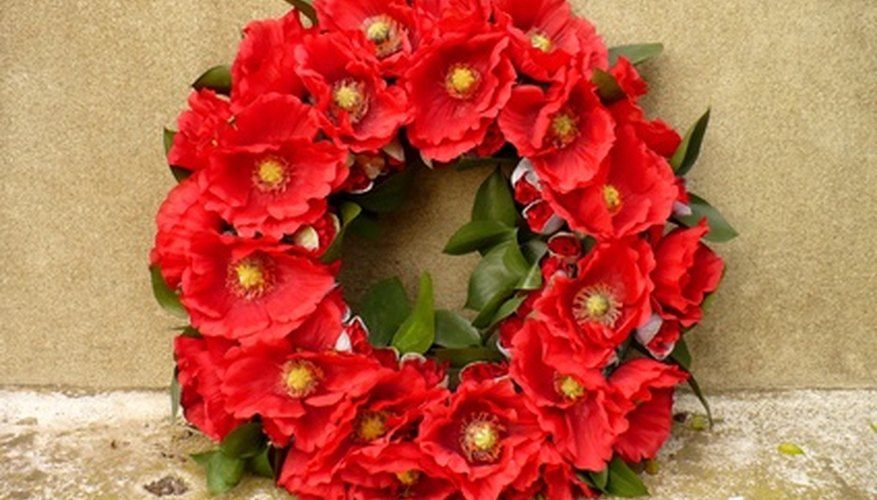 Memorial wreaths are made to honor or remember one or more people who have died or an event that has taken place. These wreaths can take many shapes and use any kind of flower or greenery. Memorial wreaths can be small to very large, depending on the occasion, and can be personalized with small framed pictures, sashes with a person's name or heartfelt notes. The wreath may take the form of a cross, circle, heart or any shape that would match the personality of the person or mood of the event.
Prepare your floral foam form by soaking it in water until it is completely moist. Set it on a rack or stand it in a sink until it stops dripping and you are able to work with it.
Cover the form in foliage. You may want to wrap ivy around the entire wreath or pin leaves into place to hide the form from sight. Use floral or greenery pins to hold your foliage in place. Only the front and sides need to be covered as the wreath will be laid down, placed on an easel or hung on a wall and a flat back will help it to lay or hang better.
Place your flowers evenly throughout the wreath. You may want to cover the form with flowers or leave space between them. Cut the flowers but leave enough stem to stick into the floral foam or pin them place if they are very large, heavy flowers.
Wrap ribbon around the wreath in a candy cane form, intertwining it with the flowers and foliage. Pin each end into place on the back of the wreath. French ribbon or ribbon with wire edges is easier to work with and form, but any ribbon is fine. Tie a bow with the ribbon and pin to the lower half of a round wreath or in the center of a cross or a heart.
Place some small relevant pictures in paper frames. Keep the pictures to an uneven number, such as three or five. Using hot glue, distribute them throughout the wreath, gluing them to the ribbon. Hold them in place until the glue hardens.
Things You Will Need
Floral foam form

Fresh foliage

Floral pins

Fresh flowers

Floral shears

Ribbon

Scissors

Small pictures

Small paper picture frames

Hot glue gun and glue
Tip
You can write a poem and place it on the wreath instead of pictures, or use a sash that expresses your feelings, such as "we will miss you" or " we love you."