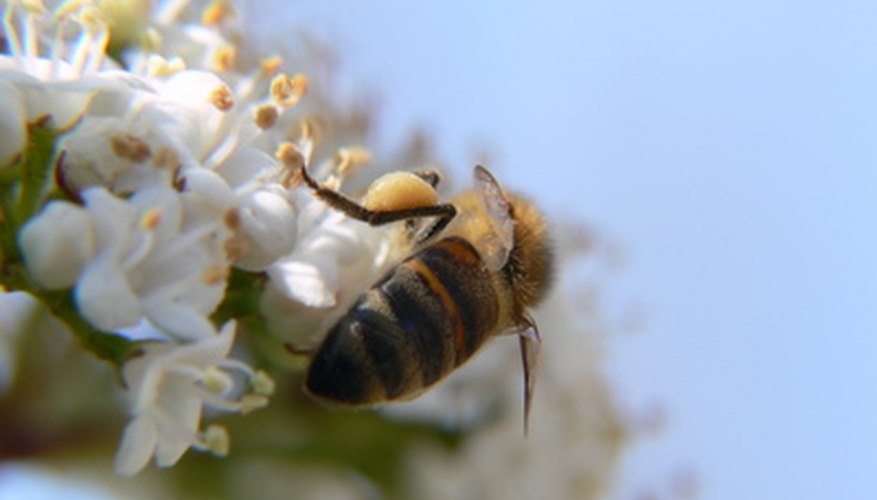 Almond trees (Prunus dulcis) rely on the honeybee for pollination. This insect flies around to different almond blossoms, spreading the pollen among blossoms as it forages for pollen for the hive. Almond trees are not self-pollinating--though scientists are trying to make self-pollinating varieties, notes Tree Hugger--so renting honeybees is the most practical method of pollination for backyard and commercial almond growers. Renting bees is easy, but it may take time to track down a beekeeper who can assist you.
Purchase a honeybee hive and starter box of bees to keep your own bees. Expect the startup cost for beekeeping hive and equipment to average $300, as of 2010, notes the San Francisco Beekeepers' Association. A 3 lb. box of bees for your hive averages $80.
Move the beehive to the almond grove when the almond trees first develop flower buds. Place the beehive on a wagon at night--because bees remain in the hive at night--and drive it to the almond grove.
Leave the bees in the almond grove for the duration of the flowering period. The bees will pollinate the almond flowers without any more work from you. Once the almond blossoms do not bear yellow pollen in the center of the flowers (since the pollen has been removed and spread by the bees), remove the beehive from the area at night, working as you did before.
Contact your county beekeeping association to find a beekeeper who will rent you her bees for pollination if you don't want to buy your own hive using Bee Culture's directory (see Resources). Beehive rental costs varies from $10 to $180 in 2008, depending on the availability in your region and time of year. Fill out a contract that specifies how much you're paying for the bees, plus the setup and breakdown of the beehive. Then, show the beekeeper where your almond trees are so she can set the bees up beside the trees.