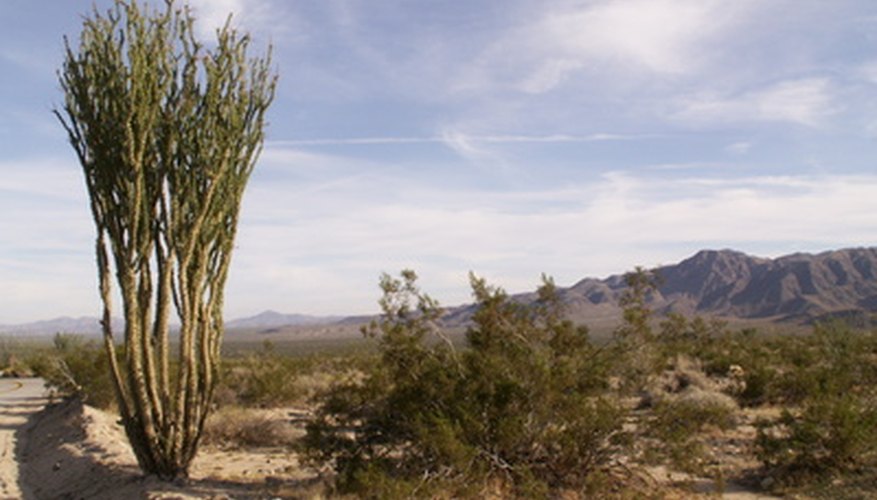 Canada might not be the first region that comes to mind when you think of deserts. But British Columbia has a small desert in its southern region--it's called the South Okanagan-Similkameen and it is a fragile ecosystem with numerous endangered plants and animals, according to Desert.org. More than 100 rare plants live in this area, which is part of the Great Basin Desert, which includes Utah's Great Salt Lake Desert.
Grasses
The South Okanagan-Similkameen Desert is home to a number of native grasses. Among them are bluebunch wheatgrass, Idaho fescue, Indian ricegrass, Junegrass, red three-awn, needle and thread grass, sand dropseeed and great wildrye. Indian ricegrass (Achnatherum hymenoides) is a drought-tolerant grass that reaches 2 feet in height. It grows in soil that can be either clay or sand. Its yellow flowers bloom from May through June. Although the blooms are not showy or fragrant, they attract birds and butterflies. Livestock favor the Indian ricegrass, making it an important source of food for desert animals.
Antelope Brush
A member of the large rose plant family, antelope brush (Purshia tridentata) is a shrub with dark green leaves that can reach 6 feet in height. It resembles sagebrush and produces flowers with yellow petals in spring. It grows not only in desert areas but also in grasslands and other dry areas that also contain sagebrush, Ponderosa pines and junipers. Deer, moose, elk, cattle and antelope eat this plant. Humans that have tried eating it report that it is not tasty to their palates. Antelope brush is so important as a browse food for wildlife and domestic livestock that the Canadian government and volunteer groups have planted it in areas where animals have overgrazed.
Ponderosa Pine
This large tree is common throughout North America and also exists in the South Okanagan-Similkameen Desert. Some Ponderosa pines have been reported to top 180 feet in height with a 4-foot diameter. This tree's bark is distinctive in identifying it because it is brownish orange with large plates. Needles grow up to 10 inches long and its cones reach 6 inches in length. The Ponderosa pine is an important source of lumber, but selective logging instead of clear cutting has preserved many environments where this tree grows.
Blue Elderberry
Known botanically as Sambucus mexicana, this member of the honeysuckle plant family is an important food source to many birds, animals and indigenous people of the Okanagan-Similkameen Desert. The blue-black berries grow on shrubs that can reach 20 to 25 feet tall. It favors forest openings and stream banks and is drought tolerant. Occurring from British Columbia south to California and east to Utah and New Mexico, 20 species of the blue elderberry exist.
Brown-Eyed Susan
This North American native member of the sunflower family is called Rudbeckia hirta in the botanical world. The Okanagan-Similkameen Desert is the northernmost area where this plant grows, although it is common across the rest of southern Canada and much of the United States. It can grow as tall as 6 feet, with golden-yellow flowers that reach 12 inches across. The center of the flower is a chocolate brown. Its adaptability to many different environments and soil types makes it a successful wildflower wherever it grows, and many gardeners grow it for its beauty and carefree nature.