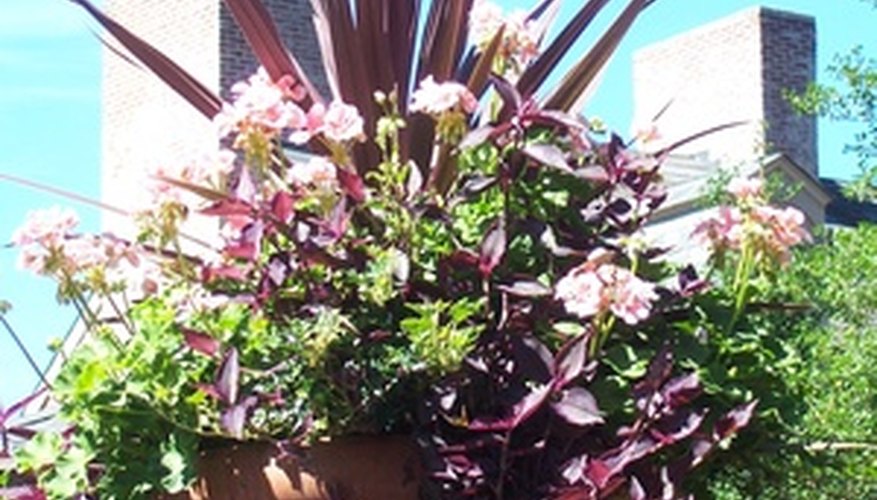 Creating a plant arrangement is an art form. The container garden provides constantly changing color and beauty to the living space throughout the season. Consider the arrangement to be a miniature landscape and keep in mind the principles of line, proportion and texture when choosing plants. Theme gardens such as an herb garden, flower garden or salad garden are suitable for arrangements.
Choose a container to fit the intended location and plants. Large flat dishes are perfect for small succulents; large plants with deep roots need more depth. Plan for the container to be approximately one-third the height of the arrangement. Consider the color of the container with respect to its location and the plants that will be placed in it.
Select plants with the mature arrangement in mind. Choose plants that look good together as they are and that will grow proportionately as they mature. A fast-growing plant will quickly crowd out a slow-growing neighbor. Choose plants with the same light and water requirements.
Arrange the plants in the empty pot, rearranging until you find the most pleasing arrangement. Place shorter plants in the front, tall plants in the background. View the arrangement from all angles, keeping in mind how it will be viewed in its final location.
Remove the plants and fill the pot half-way with potting mix. Place the plants in the potting mix and add soil around them to fill the pot. Press the surface lightly to tamp down the soil.
Water the arrangement after planting and regularly thereafter to provide the needed moisture. Remember that container-grown plants need more water than plants in the ground.