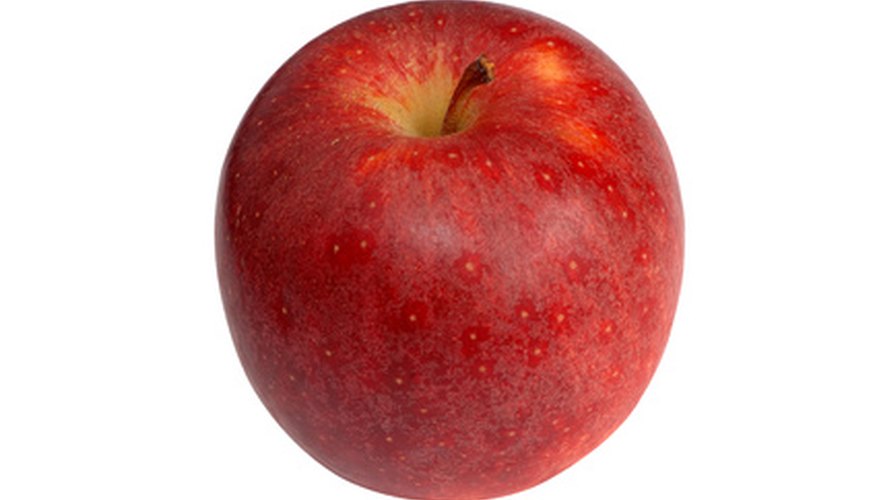 Gala is one of the best apples for eating right off the tree. It's also good for cooking and especially for making applesauce, according to the University of Illinois. Gala apples are a cross between two other varieties of apples: Kidd's Orange Red and Golden Delicious. Varieties of Gala are natural mutations from the original hybrid. These "varieties of a variety" are called "sports" and are usually discovered in small sections of orchards.
Crimson Gala
Crimson Gala is a Gala variety discovered in an orchard in Oregon state. This patented apple is mild in taste and texture but has a very pleasing scent. The skin is deeply colored and striped.
Fulford Gala
Fulford Gala is larger than many other varieties of Gala. It has more yellow in its skin than the Crimson, and the red is a brighter. Like Crimson, it has a mild but pleasing taste and texture, with an attractive fragrance. This Gala is from New Zealand.
Royal Gala
Royal Gala was discovered in New Zealand in 1934, according to All About Apples. It's medium-sized, with firm, juicy flesh. The trees produce a large quantity of apples, which should be thinned for the highest-quality fruit.
Galarina Gala
Galarina apples hold their flavor and store well--for up to four months, according to All About Apples. They have smooth, yellow-green skin and are on the small side. The apples hold well on the tree and do not drop.
Others
The rest of the sport varieties vary primarily in slight differences in their coloration. Buckeye Galas and Gale Galas have very defined stripes. Kidd's D-8 Gala has a soft blush color rather than the bolder colors of most other sports.